Starting life with one pizza baker and one wood oven, Da Portare VIA (who claim to make the best wood oven pizzas in town), have recently opened their eighth branch; taking the authentic tastes of Italy to the Dutch city of Zwolle.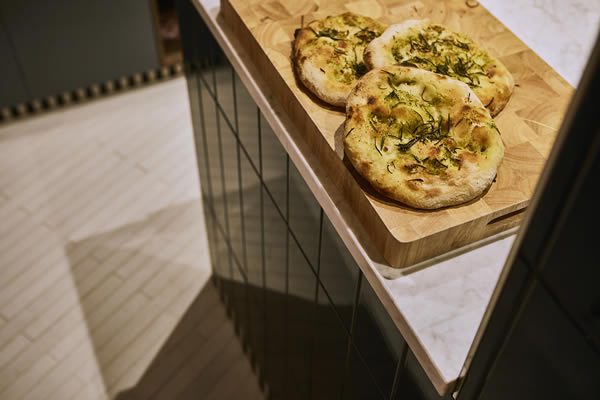 To celebrate their latest restaurant, the pizza makers thought a rebrand was in order and tasked Studio Modijefsky to create a unique interior, something that would complement their new look. Renaming the company a simpler VIA, the studio also designed a new spatial identity with a strong design language that can be translated to each new location.
The Zwolle eatery is located in an old building with an eye-catching façade, high ceilings and perfect lighting. Studio Modijefsky emphasised the height of the ceilings using large frames, angled forward to decorate the walls (as well as the pizza menus); whilst a coloured steel structure hangs from the ceiling supplying light to the tables beneath it.
Guests can enjoy subtle links to Italian décor — the black and white tiles at the foot of the bar, and aperitif table a perfect example — as they devour the best pizza in town whilst sipping on negronis and watching the Vespas whizz by. (No promises on that last one.)