Amsterdam East's MAMA DOUGH is a new pizza joint that marries exceedingly good food with exceedingly good design in the city's ascending neighbourhood for creatively-minded food and drink ventures.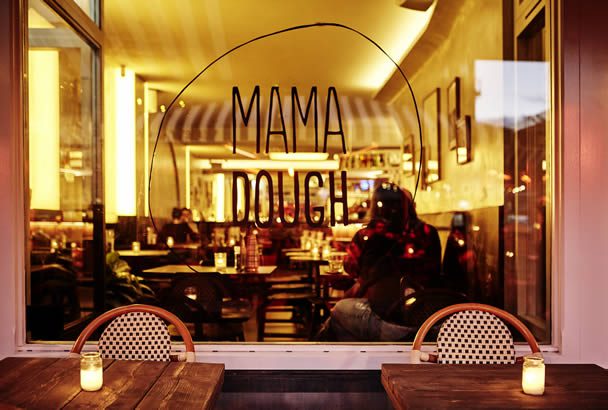 The spacious restaurant has been given a 'doughy' aesthetic, the use of chalky walls and greys referencing the importance of flour in the fabled Italian dish. The authentic wood-burning oven is a focal point for diners and Joe Public alike, and allows sit-in and take-out guests to watch as their pizza is whipped up in a matter of minutes; all to be devoured in an unfussy environment that nicely blends industrial and playfulness.
With Studio Modijefsky heading up the design, diners will notice a strong brand identity from the signage to the logo and the menu. The central round bar — a nod to the pizza shape — has a heavy wooden finish (that references its importance in taking your pizzas from dough to dish), bistro dining chairs give an Italian essence to the pizza restaurant, whilst folded elements in mirrors create illusionary scenes; a table designed as a huge record plays tribute to the owners biggest passion after pizza, music.