Lois in New Yorks' Alphabet City is Manhattan's first all-draft wine bar; a relaxing spot where casual vibes are hot, and pretension is not. Designed by Michael J. Groth, the space features 16 lines dedicated to wine and fortified wine, with a further two for beer and/or cider.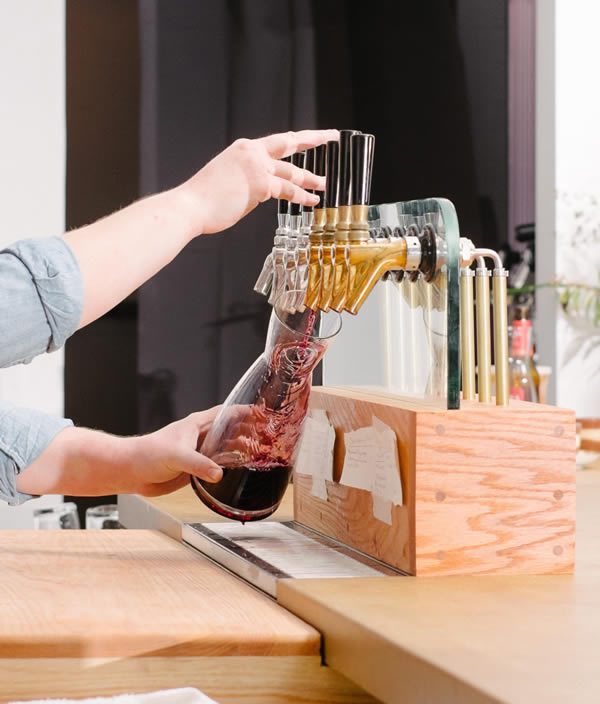 Groth's interiors are warm with a mixture of woods, oversized mirrors, and brass-accented lights. The concrete bar seats 16, whilst custom banquette seating can accommodate a further 14. Variety is key here at Lois, once a keg of wine is finished it's replaced with a new selection, and customers get to experience a different wine from a different region.
Another NYC first, Lois include tips and state sales tax in their prices, meaning what you see is what you pay; a 150ml wine starts from $6, too, making the tipple much more affordable than its bottled counterparts.
Conceived by longtime friends Phoebe Connell and Nora O'Malley (alongside co-owner David Hitchner), Lois was inspired by a belief that — when it comes to food and wine — quality and accessibility are not mutually exclusive. By serving wine on tap, not only is it more affordable, it's greener too; all of Lois' wine is in reusable sixtel kegs, eliminating bottle waste. For fans of facts and figures, a single keg​'​s life span eliminates an impressive 3,120 glass bottles. And that's a fact we will drink to.
A small food menu created by Connell will be available with small plates, hearty stews and rotating artisanal cheeses (a nod to her background as a cheesemonger), all will be chosen to pair with the bar's wines and beers.