Johnny Carson had his own entrance, Jack Kerouac scribed about it and David Letterman regularly filmed here. To say this place has history is an understatement. Now, the infamous 100-year old New York City drinking destination, Hurley's, has been reborn as an eccentric new bar-restaurant called Pebble Bar.
Located at the Manhattan institution that is Rockefeller Center, the new venture is co-owned by Noah Bernamoff, Julian Brizzi, Matt Kliegman, Carlos Quirarte and Matthew Charles, all proud New York locals with successful F&B businesses, Pebble Bar is a New York night come to life, wrapping lush food and stylish drinks into one exclusive experience.
Executive chef Carlos Barrera, previously of The Lobster Club, spearheads Pebble Bar's gastronomic affair, which, in New York fashion, offers a menu that can be enjoyed in a large group, couple or alone. The Raw Bar boasts local offerings with simple but punchy flavour profiles such as oysters paired with an apple mignonette. Screaming old school decadence, the bar also serves up an impressive looking seafood tower with lobster, shrimp and other shellfish.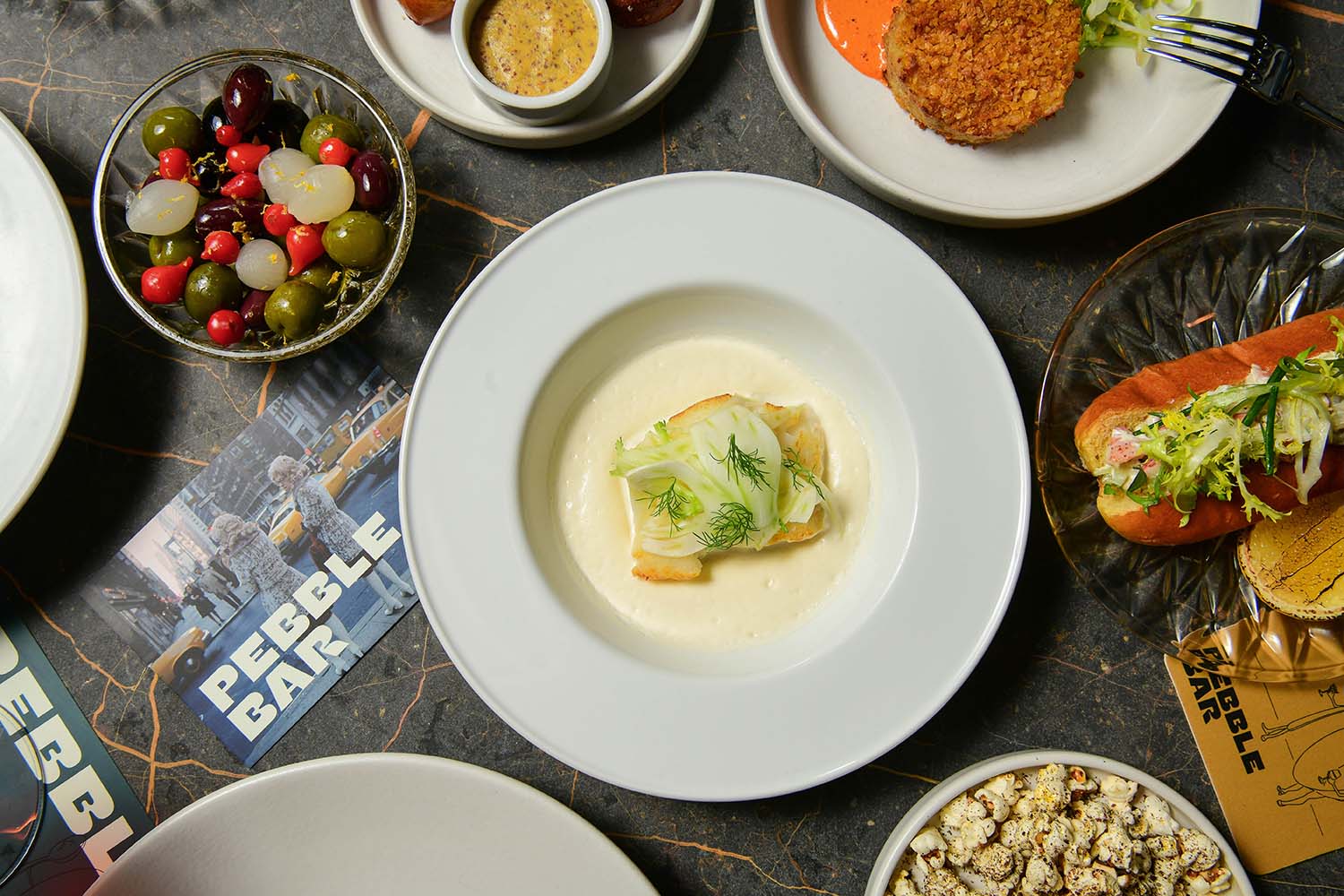 Also gracing the Pebble Bar menu are lavish cocktails are inspired by timeless NYC club culture. Carousel, made with El Silencio Mezcal and fresh, tangy notes of pineapple and chipotle, is named after an infamous jazz club on 52nd St., for example. Rounding out the menu are inventive bar snacks such as the pretzel bites with Creole mustard and steak tartare with truffle aioli and brioche. Entree standouts include the seasonal warm salad and a 'smoked and torched' mackerel with scallion ginger purée.
Pebble Bar's interiors have been designed by Gachot Studios. Its ambience is shaped by dark, moody blacks and brass complemented with glass, marble, and natural light with furniture a mixture of vintage and pieces custom-made by Gachot themselves. High-gloss black doors and an oak-panelled foyer greet guests entering the plush four-storey townhouse. Contrastingly, Pebble Bar's succeeding floors overlook the busy streets of 6th Avenue.
Its fourth floor, named after the late-night talk show host Johnny Carson, is an exclusive event space for up to 50 guests. Decked out with a bar, piano and eclectic vintage furniture, it's another homage to quintessential New York nightlife.
Unapologetically New York, Pebble Bar brings back a classic sophistication that will ensure locals feel at home, with an eccentric and unforgettable charm that will pique the interests of travellers who flock to this iconic complex.