Japanese cuisine and sensibilities collide with Danish design at new ramen joint Slurp — a creative spot which combines fast, high quality noodles with the ease and simplicity of a traditional walk-in bar. And oodles of style.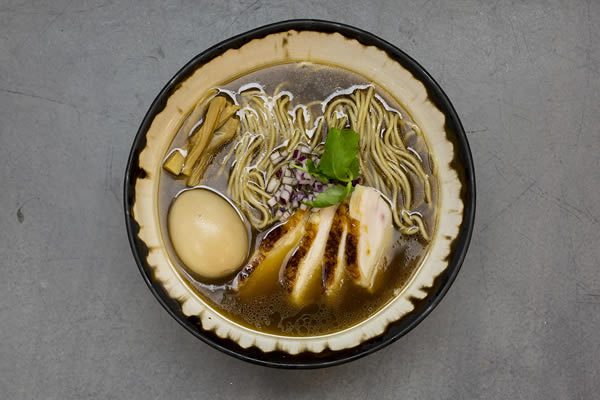 Located in the heart of Copenhagen, Slurp Ramen Joint is led by head chef Philipp Inreiter, who serves fuss-free bowls of broth, noodles and toppings — at the same time adopting a philosophy called Tenrakai, which strives to improve every element (techniques, ingredients, quality) and ensure that they work together in a karma-inducing harmonious bliss.
Everything you will eat here is made in-house, chef Philipp perfecting his skills whilst on a research mission to Tokyo. Ingredients are sourced both locally and from Japan; wherever possible, organic produce splashes ceremoniously into your bowl. The architectural elements of Slurp's interiors have been designed by studio Spacon & X, whilst the irresistible visual identity — spearheaded by Copenhagen's hippest hound — were overseen by design studio Iron Flag. Easy, smooth and sumptuously stylish, Slurp Ramen Joint merges simplistic Japanese philosophy with the ever-knowing cool of Denmark's capital. Konichiwa bitches.