Brewing; kegging; dining; shopping; it is all going on at Copenhagen brewpub BRUS. Situated in a former iron factory in the city's multi-cultural and very hip Nørrebro neighbourhood, guests are encouraged to wander the impressive 750m2 space; discovering each different zone within its open plan space.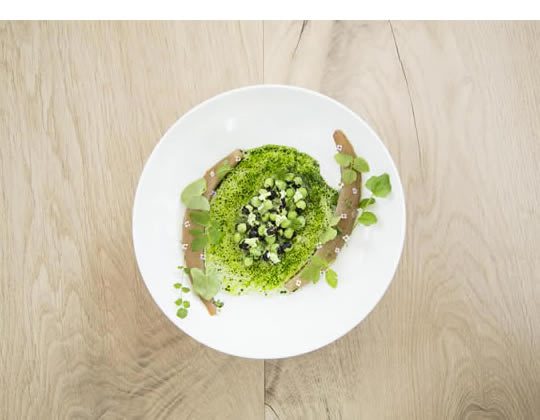 Named after the sparkling quality that liquid obtains when carbonated, BRUS is owned by revered Danish craft brewery To Øl, who tell us that everything here is 'visually connected to the fact that it is a brewery'. That means beer and its making run through the backbone of this industrial interior, even though the brewery itself is out of sight out back; a nice alternative to the bulk of stainless steel that's become synonymous with brewpubs the world over.
More decorative elements of the process cross over into the public space, though, oak barrels are there for ageing beers — not for aesthetic reasons — and that material becomes a recurring theme throughout; three oak trees were used to create the bespoke nine metre-long bar, lounge booths, bar stools and restaurant tables. A pared-down approach reveals the core functions of the space, whilst the lounge area carries references to beer production — like backrests cut out in the shape of barrels, and seats that use cork.
The centrally-located bar is the fountain of life here, backed by 33 taps that serve straight from out back, along with guest craft beers from the world's top brewers; which are the perfect accompaniment to the modern French-, new Nordic- and Asian-informed dishes served up by Denmark's youngest Michelin-starred chef, Christian Gadient, in Restaurant Spontan.