Founded in 1987 by Nani Marquina, whose singular desire was to 'design rugs that were visually surprising for people to enjoy', nanimarquina is now based in Barcelona and New York, and has collaborated with a wealth of national and international designers; producing a wide diversity of styles, textures and shapes.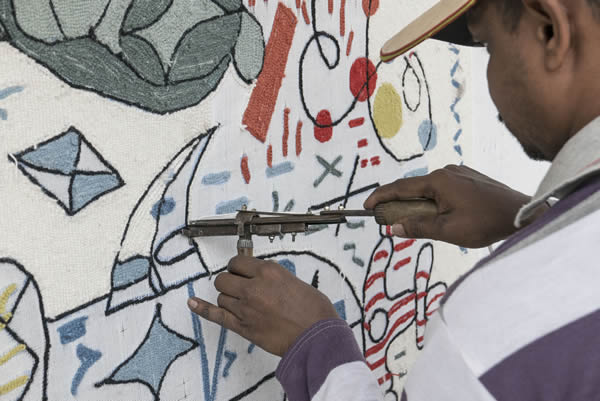 This year celebrating 30 years in the game, nanimarquina have created a humorous collection to commemorate that milestone; calling upon the expertise and imagination of Madrileño design darling Jaime Hayon, who is known and loved for his surreal characters and whimsical interior objects and design.
Hayon x Nani appears to reveal a chaotic tangle of colours and shapes that invade the rug, closer inspection, however, sees the fervent imagination of Hayon in all its glory: turtles and lips, hands and stools, fish and man-birds … Created with the hand-tufting technique, intuitive and fluid lines are achieved as well as an organic composition, meaning that the reproductions are a 100% accurate reproduction of Hayon's original sketches.
Two of those sketches have been transformed into four rugs in different sizes. Designed to be observed from different angles, the square model — specifically created as a piece of tapestry — has been designed to hang as art on your wall. Here's to another 30 years of innovation.
@nanimarquina_official
@jaimehayon