The art world that reaches its public is a bit like the proverbial tip of the iceberg; the lion's share remains unseen. Spending the majority of its time packed up in shipping containers, awaiting exhibitions, or festering away in billionaires' backyards, much of the work that artists make rarely gets its chance to shine.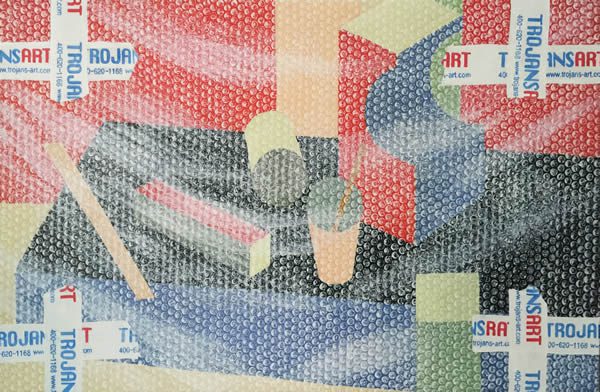 We've seen the art world question this conundrum before, when The Hole and Eric Firestone Gallery teamed up to offer mere mortals a metaphorical crowbar that unlocked their own stored gems, here at New York's Klein Sun Gallery, Chinese conceptualist Shen Shaomin goes one step further; his MoMA Series a set of paintings rendered as if they were wrapped in protective plastic packaging, ready to be shipped.
As the title suggests, Shaomin has theoretically snatched gems from the New York institution's extensive collection, pulling out cubist, surrealist, and abstract impressionist greats and 'repacking' them; highlighting the economic circulation of art. Cleverly mounted, or not, here at the Klein Sun Gallery, Keep Upright is a wry critique on what the Chinese artist calls 'celebrity' art works. As an aside to Shen Shaomin's unpacking of the art world, a new series — Faded Classic—Left Over Fish — continues his assault on the classics; reproducing historic works like 1728's Still Life with Cat and Fish, and 1611's Still Life with Fish, Candle, Artichokes, Crabs and Shrimp with one (not so) subtle difference.
Shaomin's fishy series sees our gill-bearing friends removed from these iconic works; reintroduced as an eerie mechanical fish that flaps away underneath the paintings. As in the artist's MoMA Series, his subversive takes are a reminder that art is incapable of escaping its past; Shaomin's own views on that are left open to interpretation.