Hosting an event? Putting on a party? Or, dear fellow, are you simply looking to show your pals exactly what you're made of? Amsterdam has a new status symbol, and what could be one of the world's most extravagant hotel rooms: The Loft, located on the 16th and 17th floors of the newly-revived A'DAM Toren (Tower), the former home of ocean-clogging corporate killers Shell.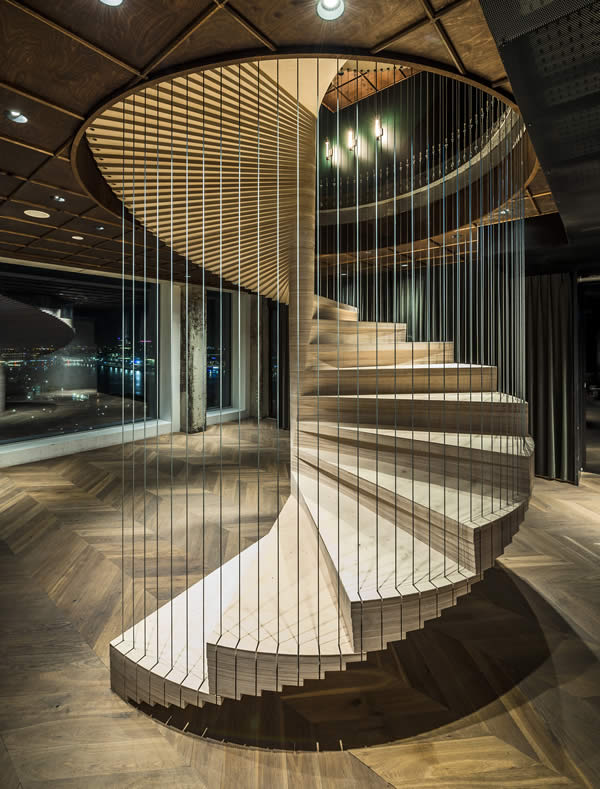 Now a multipurpose venue — including nightlife, restaurants, a hotel, and observation deck — The Loft at A'DAM Toren is the crown jewel among the tower's events spaces; boasting 360° panoramic views across Amsterdam, it's available for everything from product launches to exceedingly extravagant accommodation. Designed by Tommy Kleerekoper, Sanne Schenk and Menno Kooistra of architecture, interior design and branding studio TANK, the team chose a modern, industrial raw interior, with leather, steel and wooden features — it's a rock star's condo of sorts; capable of transformation into multiple guises.
The Loft's main event space, which occupies the whole of the 16th floor, features whopping bedrooms, a super-sized green marble kitchen, and main living area with bespoke lighting and lavish furniture — up on the 17th, alongside the many meeting rooms, hides the master suite; its freestanding bath and shower offering those stunning views, whilst the former can be converted into a desk (really), guests able to request a portion of the ceiling to be lowered onto the tub.
A confusing proposition at heart, the sleep-in events space is most certainly not for everyone — but for those who can: why host a corporate event when you can don your leather pants and swing from the chandeliers (please don't do this) in The Dam's most decadent suite? Mind- and wallet-blowing.