Celebrating its 85th birthday and ongoing title as central London's single remaining permanent ice rink, Queens Ice & Bowl has undergone a major overhaul. Originally opened in the 1930s, Queens has become somewhat of an institution for those looking for wholesome family fun; around 25 million guests to be precise.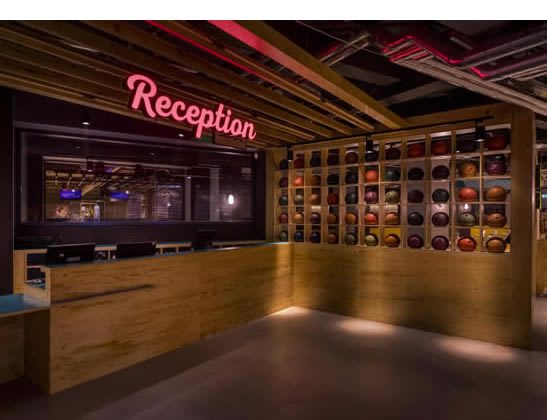 Commissioning DesignLSM to bring the venue up to modern day standards, it now boasts 12 ten-pin bowling lanes; a 9,000 ft2 indoor skating rink; ping-pong suite; air hockey den; table-football tables; and a retro arcade game studio. Redesigning the interior and brand identity, DesignLSM took into consideration the customer experience; creating a dedicated 'meet & greet' area decorated with polished concrete and displays of vintage skate and bowling paraphernalia.
Further references to ice skaters and bowlers of decades gone by can be found in the playful and bold design — visitors to the 45,000 sq ft space will notice block colour, a use of timber, bespoke vinyl's, laminates and glossed ceramic tiles alongside the newly designed Queens signage. Jimmy's Diner (from pop-up restaurateur Jimmy Garcia) will serve British and American classics; guest DJs will be on hand to form the playlist of your weekend.
Currently undergoing phase three of the build, Queens is expected to be back in business mid-February.