Dundee is renowned for jam, jute, and journalism. Fast becoming Scotland's coolest city, many don't realise is that it's also home to some of the most iconic comics long loved by kids around the world. This year, DC Thomson celebrates 80 years of publishing history; and it was here in Dundee that names like Dennis the Menace, The Numskulls, Oor Wullie and The Broons were born.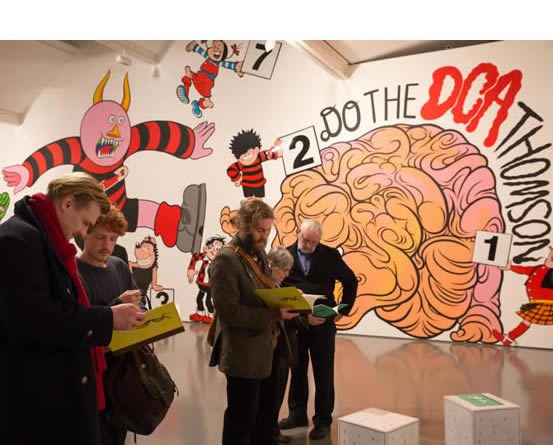 Celebrating this milestone, Dundee Contemporary Arts have put on a special exhibition where the cult characters are reimagined for a new generation. In it, six artists — Rabiya Choudhry, Rob Churm, Craig Coulthard, Malcy Duff, Hideyuki Katsumata, and Sofia Sita — have each created playful responses to the publisher's extensive archives; murals, prints, drawings, paintings, installations and videos included in a comprehensive reappraisal.
Hideyuki Katsumata developed a fascination for Thomson's cartoon characters while in Dundee (his solo exhibition here last year was one of the most popular to date); and the Tokyo-based artist has put together an expansive mural and other smaller drawings using imagined characters that speak to the world of DC Thomson. Rabiya Choudhry's work for the exhibition is loosely based on her family and inspired by DC Thomson's riotous comic strip The Numskulls; creating her own comic creation called The Coconuts in a new set of paintings.
Inspired by comics and underground zines, Glasgow-based artist Rob Churm has worked with the Jonah strips that appeared in The Beano in the late 1950s and early '60s; notable for elaborate action sequences compressed into single page cartoons. DC Thomson's Commando comics have been tackled by Craig Coulthard, whilst multidisciplinary creative Malcy Duff takes his inspiration from Oor Wullie; producing a brand new comic that can be read within a new sculptural installation inspired by Wullie's famous bucket.
Finally, Sofia Sita — an Italian artist and illustrator based in Dundee — has created a mural celebrating The Dundonians (a group of DCA visitors who submitted their photographs to be included as drawings in the exhibition) which takes its cues from iconic comic The Broons.
DCA Thomson runs until 19 February at Dundee Contemporary Arts.