'I stole my sister's boyfriend. It was all whirlwind, heat, and flash. Within a week we killed my parents and hit the road.' If that means anything more to you than a t-shirt in some high street shop or a tattoo on a hipster bartender, then we're going to get on.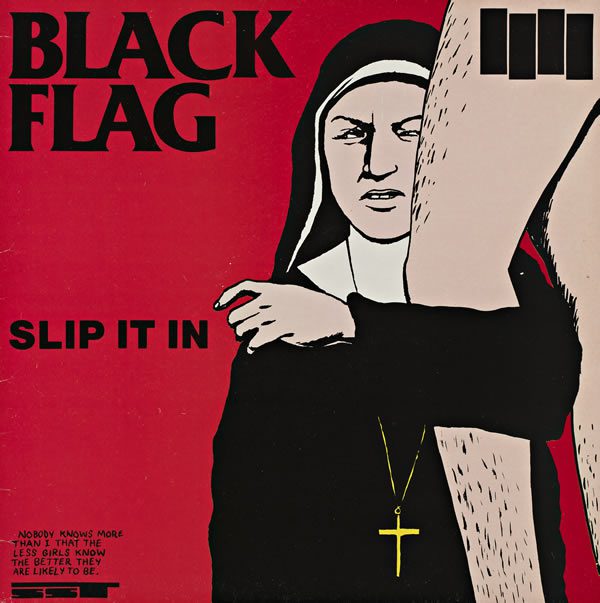 The text — hand-written beside an illustration of a paparazzi shot of Maureen Hindley and David Smith, witnesses of Moors murderers Ian Brady and Myra Hindley — comes from the sleeve of Sonic Youth's 1990 album Goo, and has been appropriated into popular culture. Drawn by Raymond Pettibon, whose comic strip Captive Chains was often used on gig flyers and record sleeves, it is one of two works that define the artist; the logo for his brother's Cali hardcore band Black Flag the other.
If artists were classified by how many bodies tattoos of their work adorn, then Pettibon would sit side-by-side with da Vinci. They aren't, and so the Californian artist remains firmly within the counterculture that defined his work; producing more than 20,000 works since the end of the '70s, his sharp political approach hasn't been blunted by mainstream success. Murder, drugs, the spoiling of the hippie dream, race, religion, war, George W. fucking Bush, Pettibon's provocative work thunders along like the punk it was born from — here at the Deichtorhallen Hamburg, Homo Americanus sees the most comprehensive collection yet of his relentless work.
The exhibition, curated by Dr. Ulrich Loock for the Deichtorhallen, redefines the term 'exhaustive', comprising some 1,200 works (hundreds of drawings, flyers, record covers and fanzines, along with films, paintings and wall drawings) across four floors of the gallery's Falckenberg Collection.
Homo Americanus continues at Deichtorhallen Hamburg till 11 September.
@deichtorhallen
@RaymondPettibon