Resting on a space formerly occupied by a single three-bedroom house in the small coastal town of Vieques, Puerto Rico, is El Blok; a breathtaking LEED Gold-certified, 22-room hotel with a unique modernist structure.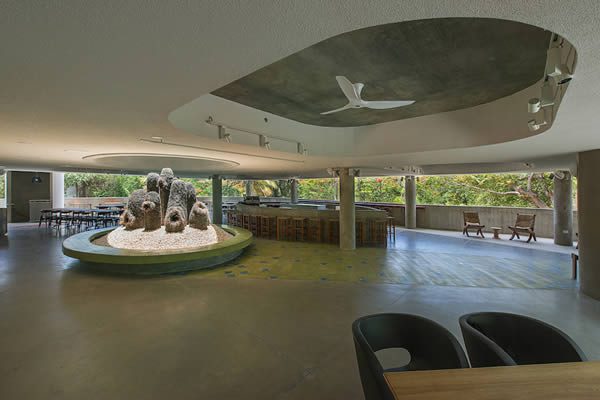 Opened in July 2014, the concrete beauty is surrounded by untouched beaches, exotic wildlife and a laid-back Caribbean vibe, ideal for the sustainable ethos that runs through the hotel; owner Simon Baeyertz — along with architecture firm Fuster + Partners — having recovered indigenous hardwoods found in nearby forests to craft most of the furniture found in the public spaces, guest rooms and restaurant at El Blok.
The Puerto Rican gem's curved shape, along with cast iron brise-soleils on the façade, are just aesthetically pleasing but also serve the purpose of allowing the building to best utilise natural sunlight and ventilation; whilst the central circular 'light well' guides guests to the private rooftop and pool where like-minded travellers can sip on a cocktail whilst the sun sets over the dramatic local landscape. Rooms let the jungle fever vibes in via floor to ceiling windows and raw industrial-meets-Mowgli aesthetics.