I know you all play table tennis. Sorry, ping pong. We've got to call it ping pong these days, haven't we? I know you all play PING PONG in your trendy creative studios. Lunchtime leagues. Backhands. Topspins. But ima gonna come clean kids, I can't play it for toffee. So I'm not interested.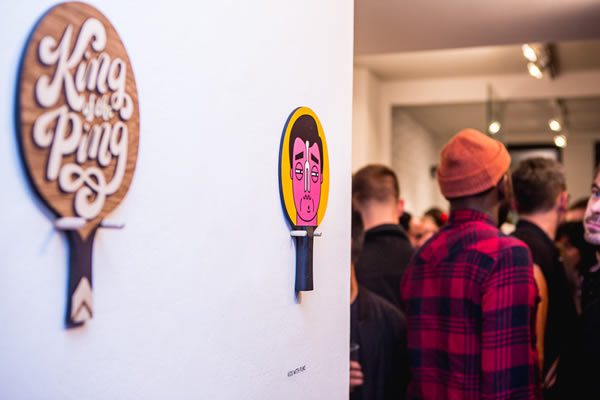 That is until you get people like Anthony Burrill, Noma Bar, Craig & Karl, Lynnie Zulu or Supermundane involved — and you get those sorts of names doing something for a very good cause. It is then that I can forget, for a moment, just how bad I am and get all excited. Raising money for BBC Children in Need, Fivefootsix's annual The Art of Ping Pong bounced its way into Hoxton Square's KK Outlet last week, and sees the aforementioned artists joined be a plenty more in decorating their very own bat (paddle … whatever) in their very own style. The result is an exhibition of brilliant bats that stir joy in even an old curmudgeonly sod like me, that runs at the gallery until 25 November.
The bats/paddles/racquets can be bid on at www.theartofpingpong.co.uk.