As history has it, Highland Park Bowl originated during the midst of prohibition; housing a pharmacy, music store, recreation space, and doctors offices on the second floor. Patrons would obtain a doctor's note for medicinal whisky, then head downstairs filling out the prescription at the pharmacy; in turn allowing boozing and bowling all day long. And who can argue with that as a way to pass the day?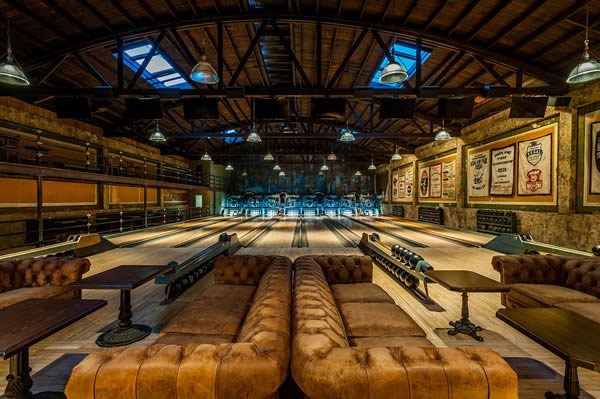 In the years that followed, it underwent several changes and a major modernisation in the 1960s, before 1933 Group brought the space in 2015; fully restoring the boozy bowling alley to its former glory.
Once again Highland Park Bowl is a place for bowlers, imbibers, diners, and music enthusiasts. The designers have revived the original Spanish Revival aesthetic of its façade — whilst inside, wooden arches and a grand hallway lead to a dedicated music room, micro-brewery (slated for 2017), open-air kitchen, bars and eight lanes with an expansive mural backdrop; painted during the 1930s Arts & Crafts Movement. A 'proper' wood-fired oven crafts perfect Neapolitan-style pizzas, and an expansive range of cocktails celebrating the venue's storied history are available from the steampunk-esque bars.
Available by the hour, and accommodating six people, not only is this Los Angeles institution a masterwork of preservation, it's one of the city's hottest places to roll for high jinks. Another strike for 1933 Group.