As a child in Iceland, Olafur Eliasson would gaze at the harbour and wonder at the ranks of fishing boats moored in ranks, so numerous and packed so tightly that he imagined walking from one side to the other by stepping across their decks.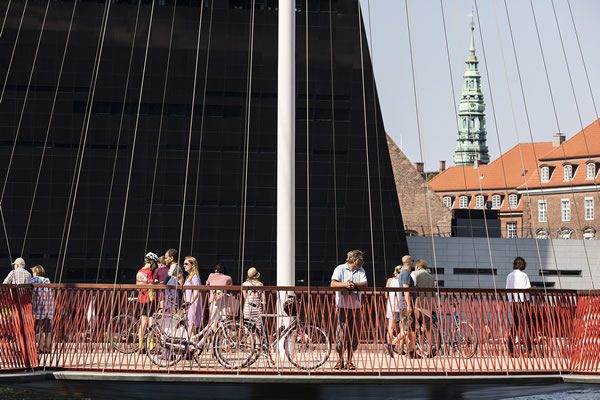 That youthful flight of fancy has become real, in a way, with the opening of the artist's Cirkelbroen (Circle Bridge) in Copenhagen, which spans a canal in the Christianshavn neighbourhood.
Up to 5,000 pedestrians will join in Eliasson's childhood fantasy every day as they traverse the bridge from one bank to the other. The structure is composed of five circular sections, arranged irregularly to lead people in a meandering zig-zag across the water, just as one would do if walking from boat to boat. This non-linear path encourages those walking it to stop and contemplate the city, and the circular shapes provide ample space in which to do so, out of the way of busier bridge users. Each circle has a towering mast complete with steel ropes mimicking ships' rigging, perfectly at home in the canalside cityscape.