Befitting of its environment, Thessaloniki bar and bistro Otto e Mezzo is kitted out from aged wood, mosaics, leather, and chunky old walls with plenty a story to tell; all looking out over a killer mediterranean view. George Tyrothoulakis of designers, local architecture office Ark4LOA, tells us: 'we wanted to use honest materials, to reflect the location and quality produce.'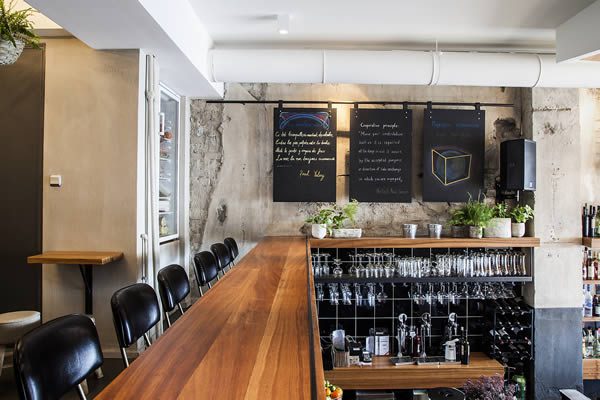 Bustling from morning to night, Otto e Mezzo (which takes its name from the highly influential Fellini-directed film) is a devilishly handsome spot to grab a coffee; sit down to enjoy Italian- and Greek-influenced plates, washed down with expertly crafted cocktails; and, later on in the day, enjoy the most stunning of sunsets, backdropped by the sound of jazz and funk.
Industrial, urban, and clearly informed by contemporary western trends, Ark4LOA's Otto e Mezzo remains wholeheartedly Greek, its laid-back Mediterranean mood an underlying aesthetic. Cinematic references continue, with a mural ode to Tony Soprano — the James Gandolfini-played protagonist of iconic HBO series The Sopranos — set above an oblique quote from British philosopher Paul Grice: In the sense in which I am using the word say, I intend what someone has said to be closely related to the conventional meaning of the words. Quite.