Ice cream is a food delivered by the Gods, and Scott & Scott Architects have created a fittingly celestial space in Yaletown, Vancouver, for the sacred dish to be served. Having got to grips with making ice cream via liquid nitrogen in Asia, Michael Lai and Tommy Choi's Mister brings the process to the west coast of Canada. In style.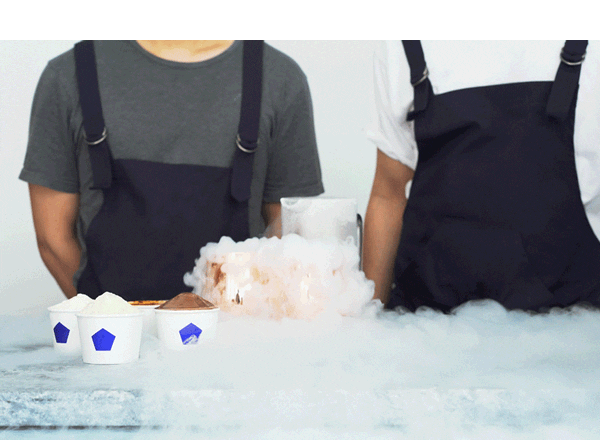 That style comes courtesy of the aforementioned design practice, who've transformed the loading dock of a 1912 warehouse loft conversion into a celebration of ice — the central island (where the theatrics of the nitrogen-produced treat play out) dip galvanised for a finish that recalls frostiness: 'we often associate the galvanised finish with memories of cold from childhood,' explain the designers, 'that experience of sticking your tongue to the steel guard on a ski lift.'
You've no doubt come across liquid nitrogen ice cream before, but let's drop in on the science of it all for a little reminder: rapid freezing of ingredients — thanks to a phenomenally low boiling point of -196 degree Celsius — mean smaller ice crystals and less air, which results in a creamier, more dense end product that doesn't need stabilisers and fillers. All natural, all good, and bloody fun to watch.
@scottandscottca
@madebymister