Swimming pools come in many shapes, sizes, and levels of desirability — from council-run cesspits full of dirty children and those 'orrible shallow chlorine pools you have to walk through to get between the changing rooms and the pool, to flirtatious Miami Beach pools where the party never stops.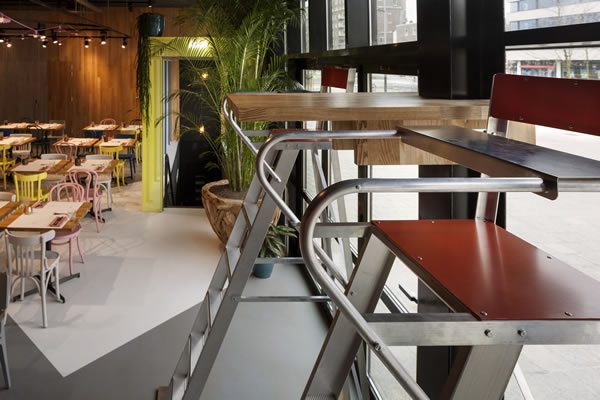 In the centre of Amsterdam is a new pool, which kind of takes its cues from both; there's the former's obligatory advice against 'heavy petting', and the latter's pink and pastel hues. If I had to choose one … well, Bognor Regis wouldn't get a look in. There are lifeguard chairs, refreshing drinks, pool stairs, and palm plants — but the only water you're getting is bottled or tap; The Pool Amsterdam is making a splash, but you won't be.
What we have here is a new sub-brand of renowned hip hostel chain The Student Hotel, debuting at their Wibautstraat city centre location. Set to be rolled out across Student Hotels throughout Europe, the Pool is a new concept that has its roots in the hotel, but its own individual personality, and a very fancy put together by studio Ninetynine.
Foodwise, the pool in question is a pretty big number, namely the Med — which they describe as 'an enormous pool surrounded by a food-loving community', which hints those are the flavours you'll be dished up … however, the Mediterranean's connection to the Old Silk Road, with its inspiration from China to Africa, means that it's not just pizza and chorizo you can expect.