Beginning in 2014 with an Education Is Not A Crime concert in Los Angeles, #NotACrime has taken the form of an international mural campaign; dropping politically-charged street art treats off in cities like New York, Rio de Janeiro, Cape Town and Sydney.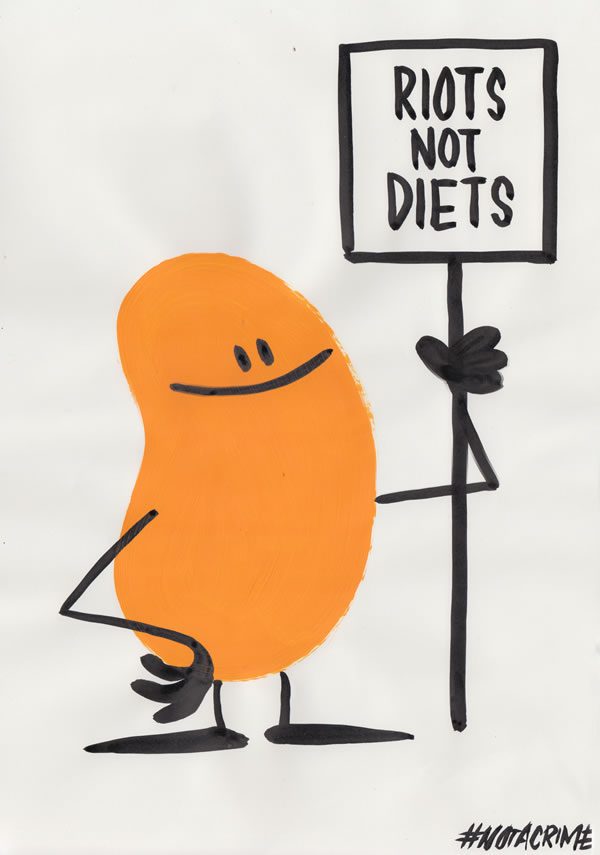 Founded by Maziar Bahari, the initiative is targeted at the persecution of Iranian Baha'is — the country's largest religious minority, who are barred from studying and teaching at universities (among other human rights abuses). Bahari has firsthand experience of the discrimination, himself arrested and jailed for 118 days on false charges whilst working as a reporter for American mag Newsweek; 'I'm grateful that we're able to shine a light on how the Iranian government is mistreating the Baha'is, as I believe it serves as a barometer for understanding whether Iran is ready to operate like a modern and rational government' he says of the campaign — which has gained traction both off- and online.
Spreading the message in London town is the irrepressible Dave the Chimp — the Berlin-based Brit famed for his humanlike 'beans', who parade with tongue-in-cheek political placards in a series of works for the #NotACrime campaign. The headliner is a mammoth piece on Holywell Lane, Shoreditch, but a further series of small pieces have been spread around the capital; much like the exclusive piece Dave's given us to pass on to one of you. Yep, Mr Chimp's Riots not Diets original artwork (worth over £300), the very one you see above, goes to the most deserving wall.
Giveaway
We want your sad walls. We're giving away a one-off artwork by one of street art's elite, so we want to make sure such a cracking gift brings optimum joy. Show us your wall deserves a Dave the Chimp original. Email your needy wall (the more forlorn the better) to sadwalls@we-heart.com, we'll create a Pinterest board with all entries … the one with the most sympathy (repins) by 5pm GMT 12 February wins. Easy.
@eduisnotacrime
@Dave_the_Chimp