Wow what just happened to my eyes? The Dutch adopted orange as their signature colour centuries ago after the rise of their popular House of Orange royals, and designers concrete have picked a particularly punchy shade for this Amsterdam beer bar interior. In fact HOPPA!'s wraparound block of shocking orange packs such voltage it borders on ocular electrocution.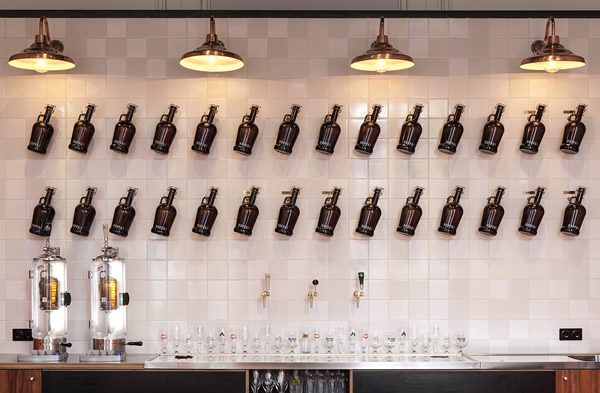 The 40 sqm single room bar — put together by prolific local studio concrete — seems as though it has been dipped in a vat of paint and pulled back out halfway, creating a striking contrast between contemporary design and the period detailing of the historical Odeon building.
The Odeon was built in 1662 as a brewery in its own right, before adding concert halls in 1830; it's now a multi-faceted entertainment venue which includes restaurant and club establishments. HOPPA!'s look draws on traditional brewing — specifically beer-making abbeys — for visual motifs: a glance to towards the heavens reveals Renaissance-style ceiling frescos. The white tiled wall backing the blue steel and Jatoba wood bar carries 28 growlers hanging on hooks for when their regular owners pop in. Casuals can bring their own or enjoy a sit-in glass of HOPPA! Draught.