Fur and feathers fly in a new collection of paintings by young Austrian graffiti artist Nychos. TS Eliot once wrote of the death-obsessed playwright John Webster that he "saw the skull beneath the skin", and it seems Nikolaus Nychos is also the sort of person who likes to delve deeply into life's inner workings in a physical and metaphysical sense.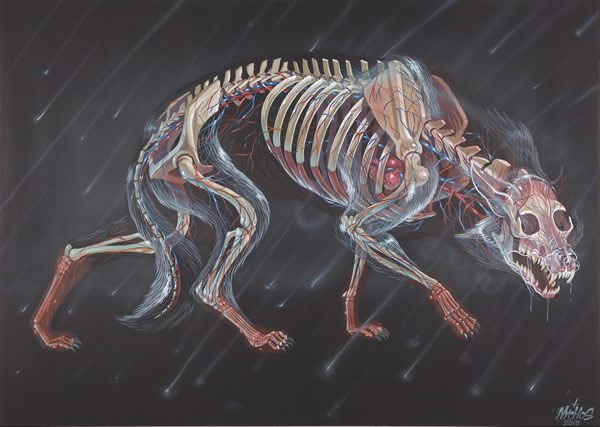 The works reflect Nychos's scholarly interest in anatomy — the artist has a season pass to Vienna's Natural History Museum in order to better understand the outer form and inner workings of animals — and his single figure pieces have something of the educational diagram about them. However, when two animals meet, things get considerably more violent, visceral and dramatic as they rip and tear at each other with terrifying ferocity.
His process is fraught with tension too; the layering of bones, then background, blood vessels, nervous system and finally the application of translucent colour must all be done without error. Nychos's work Translucent Fear is being shown at Kolly Gallery in Zürich until 22 November.