Taking a dinner break at his drum kit, cutlery poised like drumsticks, pint of beer resting on his floor tom, Rodney Graham — in his guise as a 1960s jazz drummer — illustrates all about his singular style that elevates it to another level. Setting himself as a fictional character, we have his meticulous attention to detail; his technical excellence; his wry sense of humour and passion for music.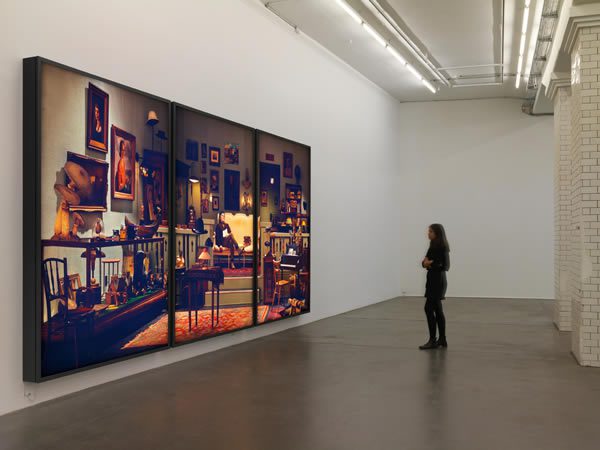 Graham is a master of his craft, a restless artist who embraces photography and film; music and painting. As he prepares for a major retrospective at Gateshead's BALTIC Centre for Contemporary Art, the Vancouver-based artist presents a selection of his signature lightbox photographs alongside two new collage series in Media Studies; currently showing at Hauser & Wirth Zürich.
As that jazz drummer in Dinner Break (Salisbury Steak), a sleeping antique dealer in the stupendously-elaborate Antiquarian Sleeping in his Shop, the flakey lecturer in Media Studies '77, seemingly teaching little other than the art of smoking in style; Graham's characters are captivating — cinematic and mundane at once. Influenced by Robert Rauschenberg, the Canadian draws on a hoard of Circus magazines — the hair metal mag that would be immortalised in Guns N' Roses's Get in the Ring providing a wealth of rock stars who are obscured, sometimes beyond recognition.
In other collages, mid-century style icons like Dean Martin and Alain Delon can be found alongside vintage adverts and other confounding odds and sods torn from old mags; the two series serving as evidence of Graham's lifelong passion for music and film. His ability to contort those influences into surprising saunters through the uneven landscape of popular culture, too. Witty, elaborate, contrary. Graham's nostalgic work itself is a vital cornerstone of the very culture it draws upon.
Media Studies continues at Hauser & Wirth Zürich until 11 March; his retrospective at BALTIC Centre for Contemporary Art opens 17 March.