"A blonde, white Red Riding Hood lost in a forest of faceless Muslim wolves: This is how "Homeland's" creators have chosen to represent their show as it begins its fourth season". That's what Laura Durkay has to say on Homeland's promo poster for its last series, in an article The Washington Post headlines: 'Homeland' is the most bigoted show on television.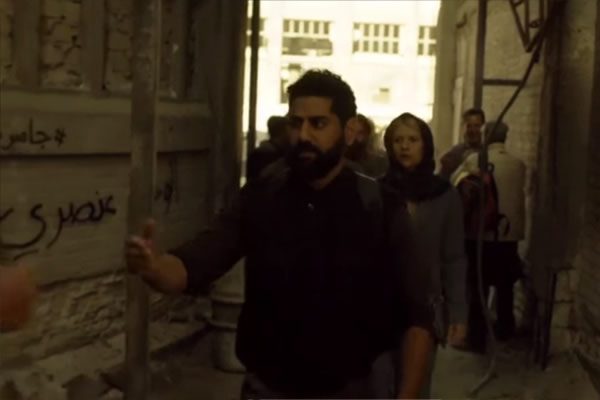 You know Hollywood's depiction of the Middle East — wrongdoers shrouded in burkas, fanatics, third world aesthetics … a carpet stereotyping of diverse countries and cultures, of forward-thinking cities like Beirut. Multi-award-winning show Homeland is no different, something not lost on German graffiti artist and publisher Don Karl — who was contacted to lend some Middle Eastern 'authenticity' to a set for the new series.
Karl, who has spent years researching graffiti in the region, couldn't resist the temptation, hauling in Arabian street artists Heba Amin, Caram Kapp and Stone for a wee hijinks. Amazingly, as the set designers fussed over the detail of all and sundry — from "the plastic laundry pins to the frayed edges of outdoor plastic curtains" (according to Amin) — the fact that the street artists were busy subverting the shit out of the show went unnoticed … graffiti spelling out skits like Homeland is racist and Homeland is a joke, and it didn't make us laugh clearly visible on episode two of series five, broadcast this week.