It seems that reports of the death of print media have been very much exaggerated. Mainstream glossy magazines may not sell in the numbers that they used to, but there's a thriving market for niche publications of the kind you'll find at Kioskafé in London's Paddington.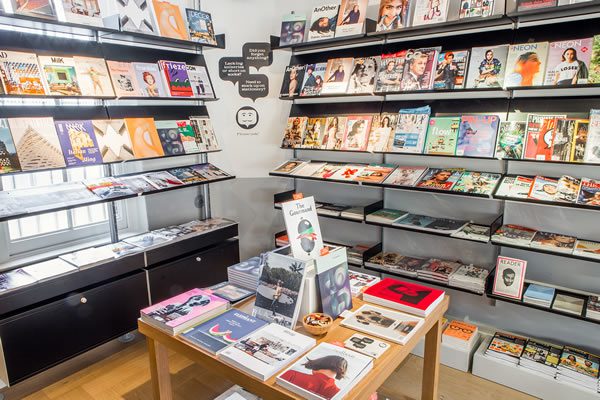 Global media brand Monocle are behind the venue, and their selection of international newspapers and magazines caters for the broadest of tastes. The list of titles really does run the gamut from A to Z; AD Spain and The Zimbabwean Independent bookend the 300-strong list.
Kioskafé measures in at a modest 80m2, and not all of the available titles are found on the shelves. Visitors may order ahead, wait while their chosen title prints on demand, or pick up a physical copy of those titles which are regularly stocked. EDM Architects have delivered an interior that caters for Kioskafé's dual purpose in cohesive fashion. The publications are laid out in the style of retro kiosks of the type still sometimes encountered on European street corners. There's also a number of other travel essentials (stationery, toiletries from Trehs and Rausch, special edition bags by Yoshida and even underwear from The White Briefs) on sale too.
Shelves trail magazines from the main display area on the right into the other side of the room, which is devoted to refreshments including coffee from Allpress.