It's all falling apart at Asya Geisberg Gallery as Julie Schenkelberg's Swan Song continues her fascination with architectural decay and domestic destruction.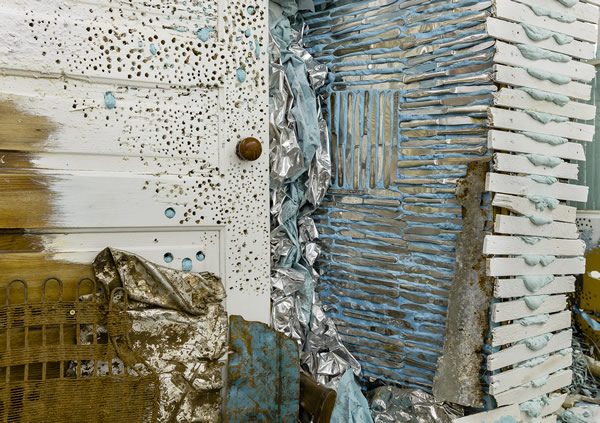 While the television schedules are crammed with programmes about restoring ramshackle properties to their former glory, Schenkelberg goes to great lengths to create environments that look by turns chaotic, derelict, and at times only a matter of moments away from collapsing entirely.
The site-specific installation — that goes under the title of Embodied Energies at the New York gallery — is reminiscent of fairytale palaces long since abandoned, partly reclaimed by nature, partly degrading with age, and with a sense of forgotten and faded luxury. The gilding is cracked and peeling, the lustre tarnished, the metal rusting.
Schenkelberg spent 10 weeks putting the work together, appropriately enough in a disused church basement, before transferring it from the Midwest to the New York gallery to complete on-site. Heavily influenced by Rust Belt decay, the artist goes beyond the superficial, surface level distress, digging into the very fabric of the structure. Plaster, cement, foam, drill holes and sawed wood vie for space with once-ornate textiles and ceramics. Julie Schenkelberg's Embodied Energies is scheduled for demolition on 24 October.