Gah, my eyes! It takes a couple of seconds to adjust to the level of garishness in Bananas, a bit like when you turn on the light first thing in the morning. But once one has become accustomed to the brilliance of the Barcelona restaurant's interior it's impossible not to be won over by the deliberately over-the-top work of designers Helena Jaumá and Yolanda Vilalta. The pair are regular collaborators with owner Karel Schröder, who also runs the neighbouring Cafe Kafka opposite the Born Cultural Centre, but this time they've really gone to town.
Bananas Barcelona has a kitsched-up tropical colonial vibe going, with palm trees a central feature running through the place in various guises – some fashioned from neon lights, others more sculptural and made from steel drums in a nod to the Caribbean. Banana leaves help conceal a leopard stalking the walls in Blanca Ruiz de Villa and Alejandra Basso's mural — and it might well stay hidden for fear of ending up as sofa upholstery. Much of the furniture and fittings are 1950s vintage, such as tables salvaged from a ship and Louis Poulsen lamps from Denmark.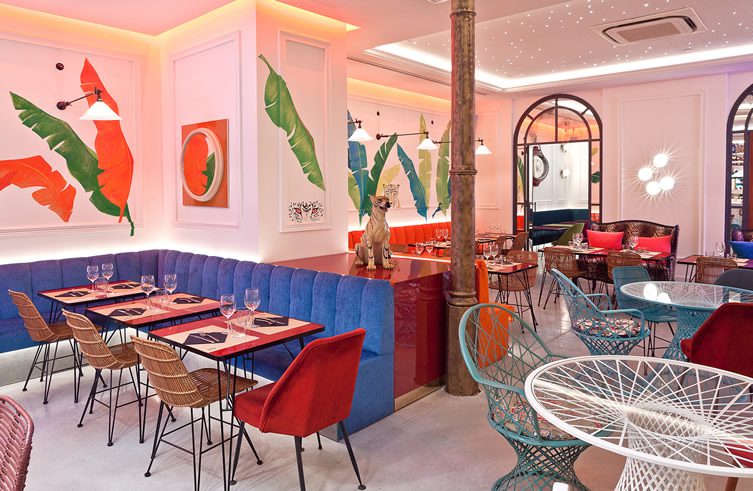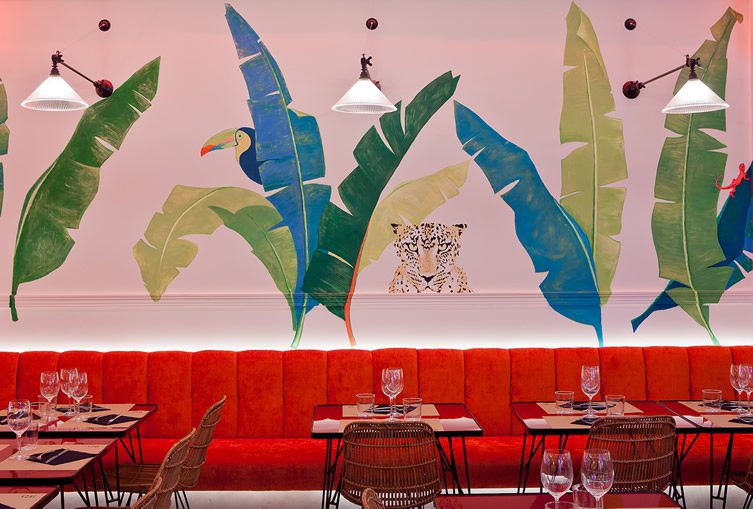 From the restaurant: " … "Go bananas," in American slang, means to go crazy—crazy with bewildering joy and untamed enthusiasm. With this inspiration and the calling to make the madness continue, Karel Schröder faces his latest gastronomic endeavour. Schröder, owner and driving force behind the neighbouring and successful Café Kafka, embarks on a new adventure, backed by his enterprising spirit and vast experience from founding and managing such well-known establishments as Marina Playa in Ibiza, Corner, and, of course, Café Kafka in Barcelona.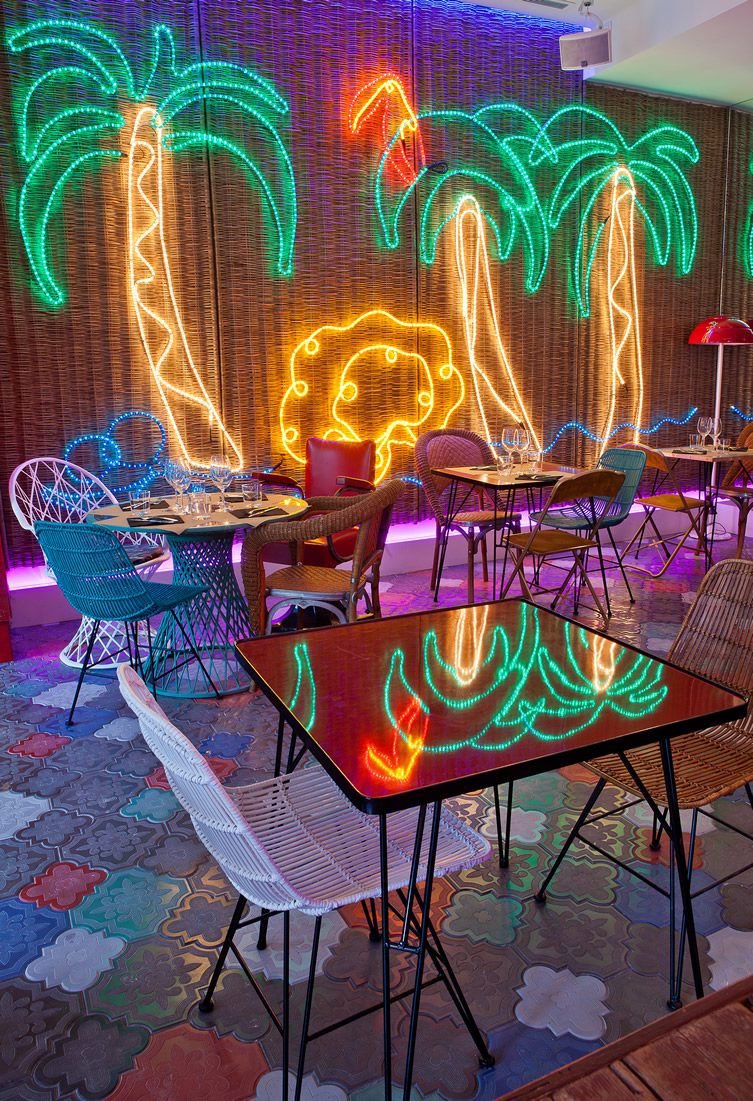 Once again, Karel's obsessions with healthy food and the best products, indulgent customer service, spectacular decor, and building the best team have made the opening of the new Club Restaurant Bananas a reality. A sense of humor, positive energy, color and light, and toe-tapping music define the style of this restaurant, which finds its inspiration in a variety of tropical and colonial motifs.
Yolanda Vilalta and Helena Jaumá must have really "gone bananas" when they were deciding on the restaurant's wild decor. Blending the tropical, the colonial, and all their clichés in good taste was no easy task, but they accomplished it with a sense of humor, imagination, light, and color. Restored pieces of furniture like sofas upholstered in animal prints or tables from an old ship stand side-by-side with custom-made additions like the spectacular walk-in freezer unit serving as a coat check. Lamps from the 50s—some of them originals, like those by Louis Poulsen of Denmark—are surrounded by wicker walls handmade by Vic craftsmen.
Fabulous illusions of banana leaves crowned by a toucan and with a leopard stalking through, painted by Blanca Ruiz de Villa and Alejandra Basso, create a carefree and colorful atmosphere in the dining area. Outside, in the covered patio, they have painted the hall and the doorway like a house set with multicolored cement tiles, and the old bar in colonial style. And palm trees. Painted palm trees, palm trees sculpted from metal drums, palm trees made from old chunks of iron and neon lights, palm trees in strings of brightly colored LED bulbs. A forest of palm trees under a ceiling of color-changing stars."