Sorry Los Angeles but your airport is shite. The whole thing starts off pretty well, with that impressive sculptural sign on the road in that recalls the iconic Hollywood one. Then those huge letters LAX start rumbling about forming subliminal connections in your brain and all of a sudden you find you urgently need to take a dump. It's all downhill after that. Most people want to get the fuck out of there as soon as possible, but when connections are unfavourably timetabled there is sometimes no option but to bed down at one of the many hotels on Century Boulevard, where you can enjoy the sight of the surrounding neighbourhood slowly choking to death to the distant, damped-down whine of jet engines.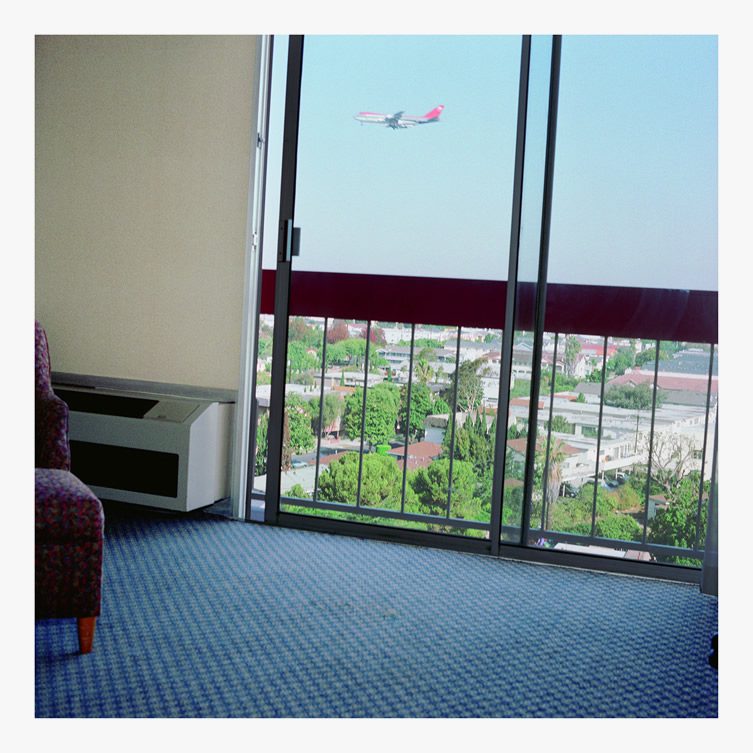 I have to feel a large measure of sympathy with Zoe Crosher, who, in the name of art, visited every one of these airport hotels voluntarily. You can see what she saw from the window of her rooms when her photographic series is exhibited at the Paris Photo Los Angeles expo from 1 to 3 May. Each of the 31 images shows a plane coming in to land or taking off, but they provide only a part of the story.
The Out The Window (LAX) project is as much concerned with the satellite locations surrounding the airport, and how the airport itself is a symbol of transience, and of both connection and separation. The hotel windows frame the shots, with shifting curtains and altered viewpoints creating a real sense of displacement.
Out The Window (LAX) will be shown at the LAM Gallery stand from 1 to 3 May. Crosher's new book Both Sides of Sunset, Photographing Los Angeles is published by Metropolis Books.
@zoecrosher
@artbookat
@lamgallery913