New York-based artist, Tina Yu, enters a fantasy world inspired by her childhood in her latest series; her enigmatic clay sculptures formed into ornate and fanciful creatures that are eerily lifelike.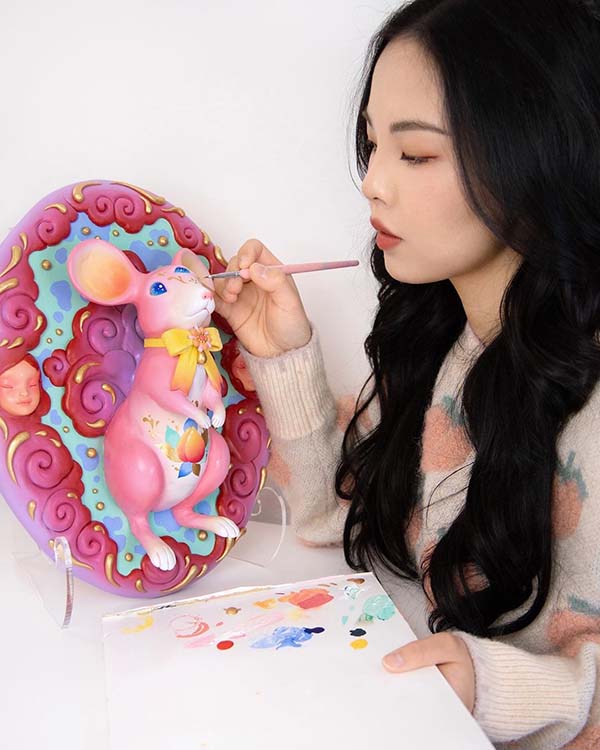 Currently on view at Downtown Los Angeles's leftfield Corey Helford Gallery, the characters created for the exhibition, entitled A Journey, are based on family, friends, and childhood imagination; the colourful creations made with epoxy clay and brought to life by the whimsical artist's 'Double C' (cute and creepy) design aesthetic.
Although the influence of Japanese anime and manga are clear on some of Yu's pieces—especially so those with big heads and kawaii facial expressions—the Chinese artist explains that a lack of confidence growing up also played a part explaining that she harboured insecurities about her size and the size of her head, as well as not knowing who she was or wanted to be. As art became therapy for a young Tina Yu, so came the confidence and the beginnings of an imaginary world in which she has spent years roaming to bring to the art world her stunning and painstakingly sculpted puzzling creatures.
With the protagonists brought back from a previous show and "reborn into a new colourful fantasy world where there is no pain and suffering," Yu hopes the collection "can remind the audience of the small good things in their lives." A message of positivity that we have perhaps never needed more.
A Journey by Tina Yu continues at Corey Helford Gallery till 15 August.
@tina.yu.artist
@coreyhelfordgallery