When the Acton Hotel in Canberra was destroyed by fire in 2011, it could have been the end of the story. But rather than starting afresh, the developers decided to build on what was left, and in the basement of the old hotel — now part of the NewActon arts and entertainment precinct (home to the city's flabbergasting eco-design wonder, Hotel Hotel) — lies the intriguingly dark and moody A. Baker.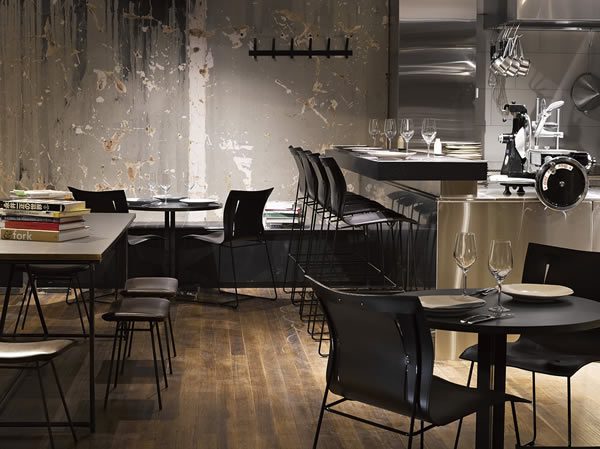 The bar, bakery and restaurant bears the scars of the past devastation as part of its character; DesignOffice embraced the fire's legacy to deliver a textured, layered interior, adding bluestone, galvanised steel and leather to smooth over the rough edges and create a comfortable environment.
The A. Baker experience begins on the ground floor with the lighter bakery and dining areas, serving food produced with local ingredients and baked goods using grain milled on site, before descending down the open staircase to the bar. Everything in the atmospheric basement – further excavated and opened out during the renovation – revolves around a huge rolled steel canopied counter finished with red Alicante marble. Here you can enjoy a rotating list of three craft beers, a cider and a seasonal wine list offering the best the region has to offer.