The latest addition to London's booming Midtown (the part of the city that lies between its West End and The City, with a moniker clearly stolen from New York by crazed ad men) is sociably sprightly hotel The Hoxton, Holborn. Bringing with it from Shoreditch more than a hint of its home 'hood attitude, the second Hoxton Hotel is located just minutes from the delights of the river, Covent Garden and Soho. With a stylish interior and familiar no rip-off policy, The Hoxton, Holborn aims to be a community-based space for locals and visitors alike. Location, comfort and style are firmly in mind, and you almost wonder how this area has taken so long to become a destination of its own, outside institutions such as the British Museum.
Ennismore developed the part-listed-and-part-modernist building in line with The Hoxton hotels' quality, value and collaborative blueprint. Stride Treglown architects took care of reconstructing the former BT building into a 174-room luxury budget hotel, while Brinkworth designed the petit, fully-loaded rooms, and the team at Soho House Group created the communal spaces on the ground and lower floors. It's an exception of the too-many-cooks rule, with a cool edge reminiscent of Hoxton, New York, Portland… open-plan lounge spaces that proffer all the style and artisan amenities modern travellers crave.
I enjoy a bit of cuticle pampering at The Cheeky Parlour, who also has a big sister in Shoreditch, before dinner – not even contemplating leaving the hotel, for its Hubbard & Bell grill already comes with a mean reputation. Olive bucket lights, mustard Cadillac booths and an open kitchen, there's a distinctive American vibe in both food and interiors. Victoria Charles, who led the interiors projects, explains: "the booths were actually made custom for us by George Smith, and the chairs are from Modernica in Los Angeles. There's definitely a USA vibe, as a lot of the pieces and fabrics were sourced there in NYC and L.A. We wanted a clean modern apartment feeling that had some heritage vintage pieces to make sure it felt comfortable. Colour was also very important in the design to emphasise this feeling, with the cool blues and greys and then the mustard to warm it up".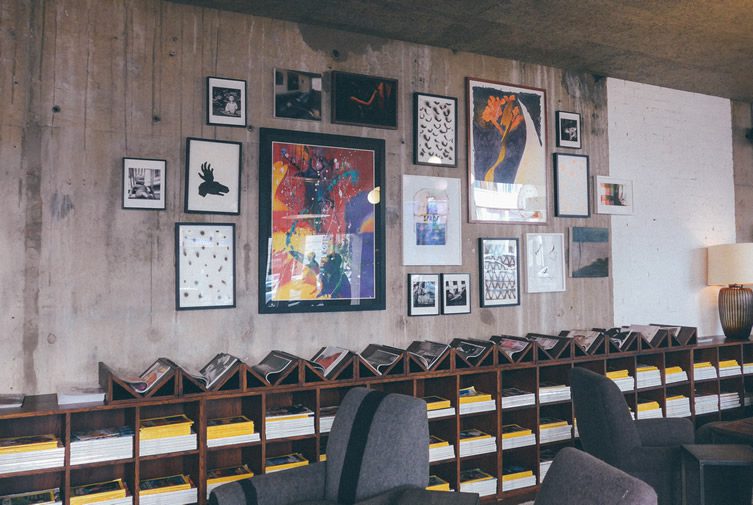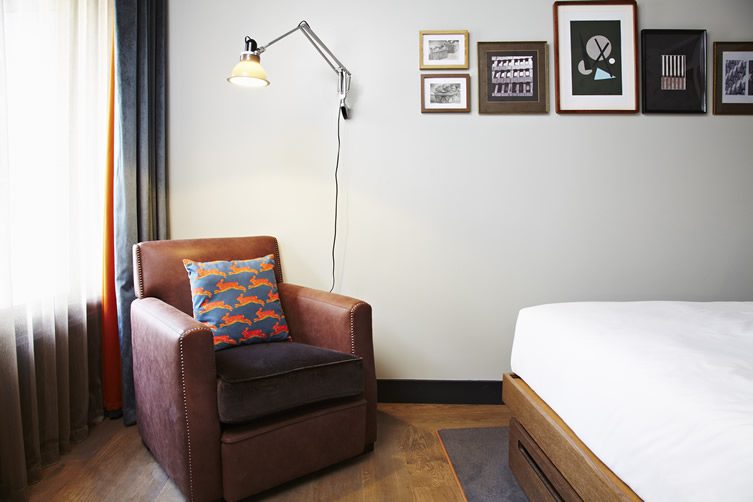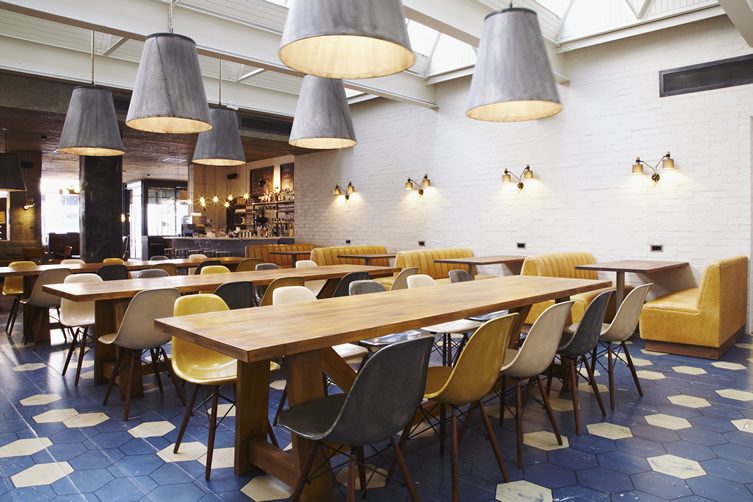 The American style culinary offerings do not disappoint: scampi with garlic, chilli oil and herbs are flavoursome and fresh, while the 60-day-aged sirloin a showstopper. Tender, buttery, frankly massive – it works well with rich Brussels sprouts with sour cherry and bacon. Service impeccable, friendly, never over the top.
The rooms are unashamedly small (Shoebox, Snug, Cosy and Roomy: I adore their honesty), but full of character and packed with all the elements for a good night's sleep. The Hoxton, Holborn is a budget hotel but – like its Shoreditch sister – doesn't much feel like one. Communal spaces all abuzz, pampering and tummy-filling catered for, there's plenty to do late into the night too; DJs, cocktails and a revolving door of cultural shenanigans. An injection of life for the morning after the night before is too on hand, another familiar face from out East is here to hook you up with that all-important hit of caffeine: Shoreditch Grind continuing their expansion in Holborn Grind. Hats off to the team at The Hoxton for creating a focal point for London's latest neighbourhood – a well executed treat that never takes itself too seriously.
@TheHoxtonLDN
@URCHEEKY
@Shoreditchgrind
@BrinkworthUK
***