Built in 1861 and reconditioned in 2021, Hotel Saint Vincent dominates a corner spot on the New Orleans streets of Magazine and Race. Originally founded as The Saint Vincent's Infant Asylum by Irish immigrant Margaret Haughery, the red brick building is now a 75-room hotel from Austin-based hospitality group McGuire Moorman Lambert Hospitality. (A newly rebranded venture from Larry McGuire, Tom Moorman and Liz Lambert, the latter familiar to us through her inspired Bunkhouse Group properties.)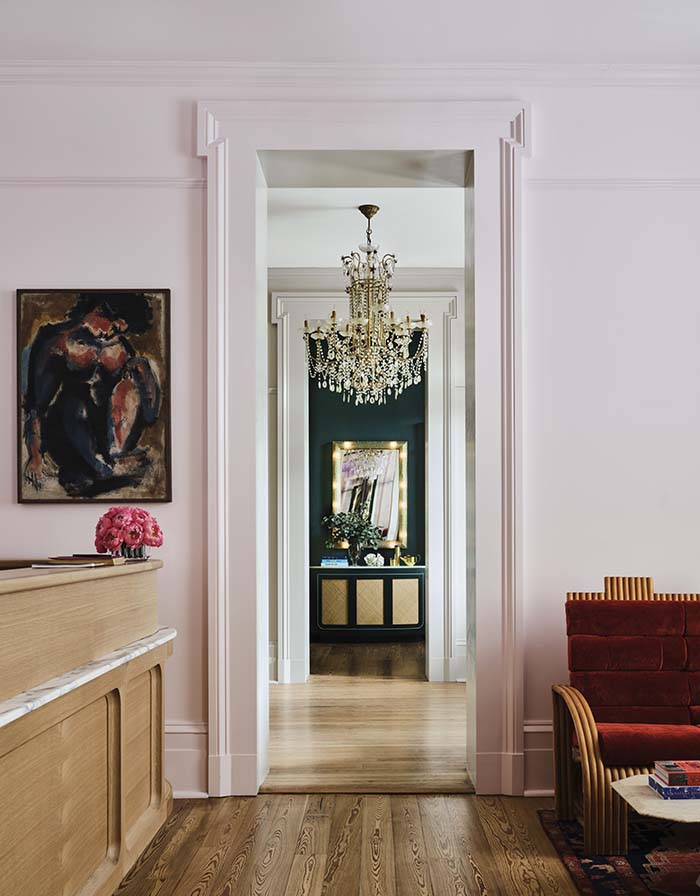 Nodding to the property's rich history, as well as Margaret's legacy, the New Orleans hot spot offers several room styles and layouts, all with outstanding amenities. There's ample public spaces, including an interior courtyard with a Saltillo enclosed swimming pool and bar; Elizabeth Street Café, a French-Vietnamese-style café and bakery serving an all-day menu; signature restaurant San Lorenzo with a coastal Italian menu; and Chapel Club, an unhurried daytime hang to pre-dinner cocktail spot, and late-night lounge.
Whilst the exteriors of Saint Vincent's three main buildings remain largely untouched, the interiors were re-imagined by Lambert McGuire Design, and feature 20th century Italian design elements with hints of modern opulence, blended with mid-century and art deco furnishings and lighting. Expect details such as vintage 1970s Murano glass chandeliers, custom tailored furniture, and commissions from local artists.
Retaining the original grand staircase and wide sweeping corridors, privacy can be found in hidden corners as well as the guest rooms, each one unique in its layout. There's all from corner 'Mary' suites overlooking a statue of the Virgin Mary in her grotto to classic, poolside 'Courtyard Kings' and intimate 'Sister Studios' that span the 4th floor. With materials including deep red mohair, salmon coloured velvet curtains, Carrara marble and an eclectic mix of vintage art and objects, rooms are luxurious without feeling pretentious. The bathrooms, with red and pink tiles and custom psychedelic 'Voutsa' wallpaper, blend the right amount of class and cool.
ByGeorge New Orleans, the retail shop with two locations in Austin, is adjacent to the hotel's lobby, meaning that when combined with the property's pool, pool service, and host of food and beverage options, visitors to this Louisiana city, may never get so far as its renowned tourist destinations. (More likely, though, it's the best way to spend a day and evening before hitting up the raucous nightspots of New Orleans.)
Devastatingly good looking, both decadent and inviting, New Orleans has an unforgettable new destination design hotel.