Sebastian Cox is a nerd. I mean that in the nicest possible way – I really like nerds – but he is a nerd. "I am so in love with my material and how it ties in with a more sustainable life," he says. "I sit up at night thinking about it, reading up on it and watching TED talks about it. Planing a board of quarter sawn English timber to reveal its medullary flecks and rays genuinely makes my pulse race." See what I mean? Nerd.
But he's got every reason to be nerdy – and it's actually quite infectious. British woodlands have been coppiced for over 5,000 years. Coppicing involves chopping down some of the trees in a forest every 14 years. They regrow, in fact a well-managed hazel tree will never die from old age, and the result is a forest with trees at every stage of development. Many species of plants, insects and birds have evolved to live in such habitats, and since we've stopped looking after our forests, their numbers are in steep decline.
Seb studied Sustainable Design at Lincoln University and couldn't understand the fascination of the time with bamboo, when Brits had a sustainable source of wood on their doorsteps. "There was a moment when I realised we were sitting on a goldmine, okay that's probably a strong expression, but it's the abundance that excites me. Using coppiced wood and turning it into something good is a symbiotic thing – the trees benefit from being used and we benefit from using them," he says.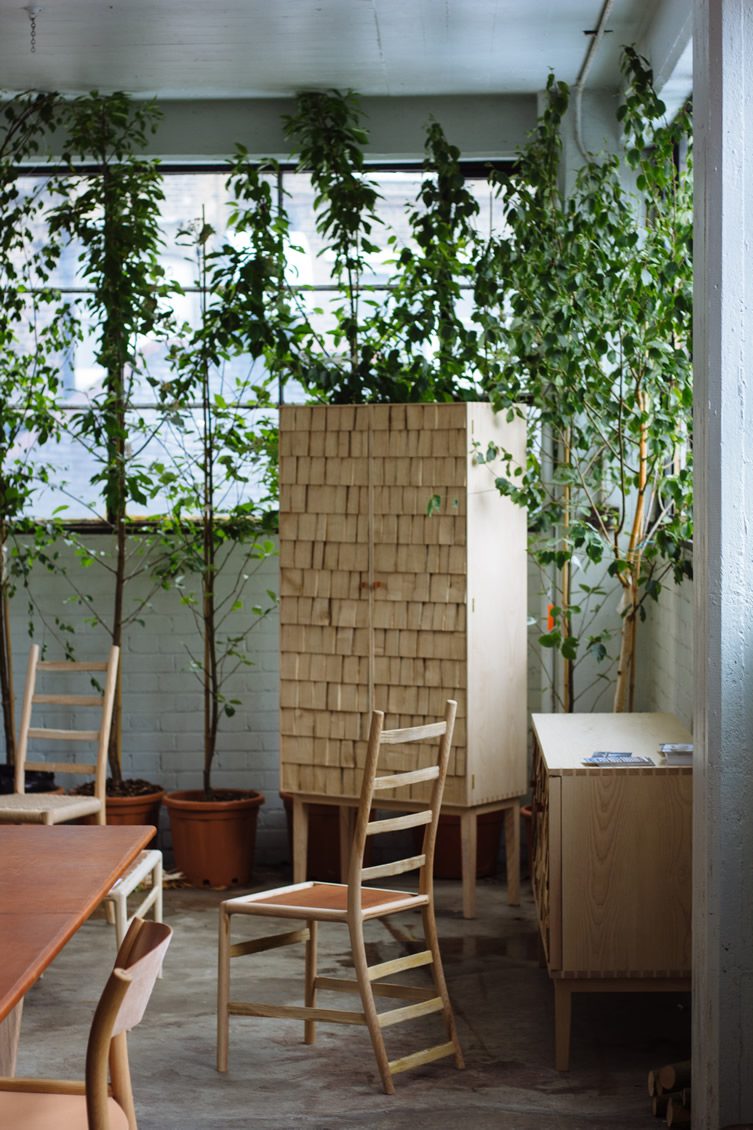 Cox started looking into hazel coppicing and realised that if he could design contemporary desirable furniture, he could put value back into our woodlands and protect them for generations to come. "All I have to do is take this under-examined material and translate it into a language which makes sense to a modern consumer. That's a fantastic brief," says Seb. "I steam bend the legs of the chairs. I split young hazel that's too small to make anything else from and weave it for the seats. I'm learning to carve spoons from the curved, knotted sections, so I can use every last bit of the tree."
Seb is involved every aspect of production from chopping down trees to applying the final finish to his products and has recently started working with Benchmark in order to reach a wider audience so he can have a bigger impact. His coppiced chestnut and ash collection for Benchmark launched at Clerkenwell Design Week in May and includes the Lath chair, bench and coffee table and the Shake cabinet and sideboard.
"My work hasn't even scratched the surface of what's possible using coppiced wood. I've got so many ideas. My favourite days are in the woods, harvesting. It's hard work but is so rewarding; it's such a special treat to spend a day in the woods for work."
If Seb Cox is nerd, the world needs more nerds.
***