Oslo arrived in the heart of Hackney Central just a few months ago and has already been causing a bit of a stir. The music venue cum restaurant cum bar is one of the forerunners changing the way we experience live events in an acutely cultural way. More akin to The Roundhouse than Brixton Academy, the immersive way in which we eat, drink and play is evolving – it appears that eating is no longer cheating.
Housed in a former railway station that dates back to 1870, the impressive two-storey Oslo is the only remaining part of the structure. The ground floor is privy to tall ceilings and high arches of exposed brick, allowing for casual banter and reverie with little interference from the hurly-burly of upstairs.
It's a surprisingly relaxed space, beyond the hired-heavies on the door there's a laid-back feel. The bar itself is expansive, all New York warehousey – somewhat of a triumph, almost taking over an entire wall with vertically-mounted iron wine racks, shelves and chalkboard scribblings. The canteen style restaurant is spacious yet (too) dimly lit, and I like the little extras. From the cute menus illustrated by Jon Powell to the locker-room style steel benches and bar lighting, little touches reinforce key design elements, evoking a sense of nostalgia and authentic East End craft.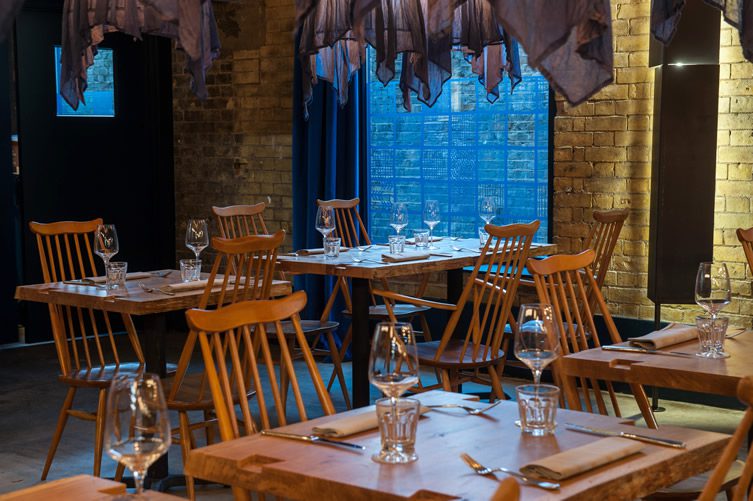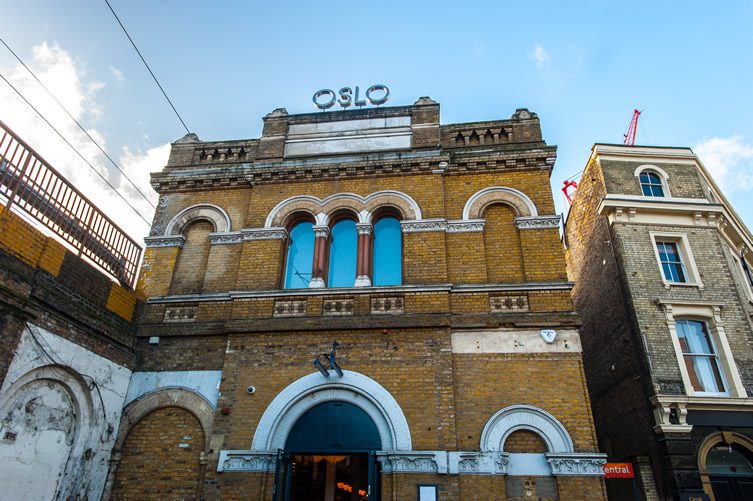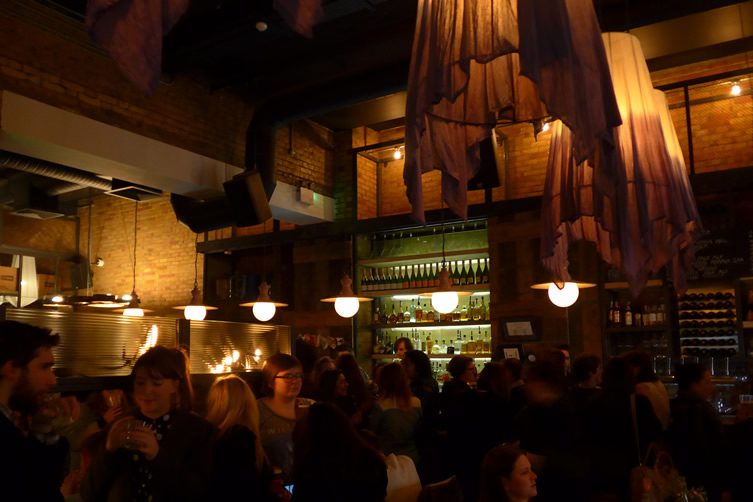 Responsible for the renovation and design of Oslo was London based studio, the house with…. From interiors to furniture through branding, the designers took inspiration from Norway (obviously): the artisan and theatrical world of Nordic folklore.
"It's great to be making an impact in East London. I'm looking forward to introducing Oslo as a place where good music, fantastic food and inventive drink menus come together to provide a great culinary, social and cultural experience. It's something I think Hackney and East London have been waiting a long time for. And, of course, it's pleasing to reflect a bit of my Norwegian roots in the Oslo name and offering!" DHP Family (the chaps behind the venue) director George Akins tells us.
Head Chef Dave Ahern looks after the inventive, ever-changing menu – expect pickling, smoking, grilling and culinary theatrics. When our venison loin arrived on a brown earthenware plate it looked like a sculpted landscape; vertical carrots for trees and medallions for mountains. Impressed, to say the least. Reminiscent of fairytales, little blueberries dotted around the plate added sweetness to the tender venison. We also tried the homely bream with cockle porridge and vermouth butter, equally delightful, full of moreish flavour. Pity they couldn't have turned the lights on, we'd have liked to have seen the colours of our food. How New York.
Music-wise: expect new and well established acts – Chrysta Bell to Klaxons. The dance hall might be small, but it's neatly formed – with that air of exclusivity you don't get in larger venues. Oslo, we're expecting a lot from you in the coming months, this new immersive venue space is exactly what East London is all about.
***