As smartphones continue to replace our brains as the most important information-holding device on the planet, apps are continually evolving and innovating; often creating entirely new solutions to problems that we often didn't even know existed. Sure, we can sometimes get bogged down by proclamations of changing the world through 69p hipster creations – and can be seriously overwhelmed by the incredibly high crap-to-quality ratio on our app stores; but we can't deny that home-brewed innovation is increasingly shaping our world.
2012, and in particular the latter half of the year, has heralded some significant advances in the world of the app – most notably in the field that interests us: design and creativity. As we approach the end of the year, and start once more to think towards the future, we thought it time to roundup a selection of our favourite creative apps – including some that have us seriously excited about the months ahead. Sure, we're not ones to dwell too much on tech, but when the apps look this good – we simply couldn't help ourselves…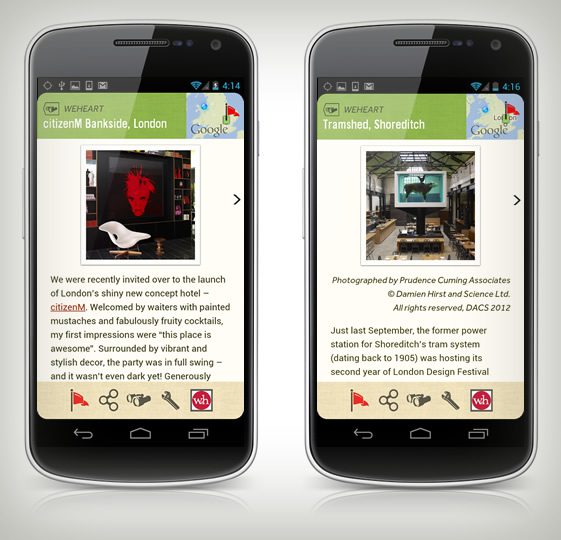 Google Field Trip
Without wanting to appear too narcissistic, we thought it fitting to begin our roundup of creative apps with one that features our good selves. You may recall that back in September, we announced the exciting news that Google had chosen us as one of their official content partners on an exciting new travel app – well, this week brings more good news: as Field Trip is now available on our shores for the first time. Alongside websites such as Cool Hunting, Thrillist and Song Kick, our content is geo-tagged and pops up in the form of info cards when you're nearby. Although not crossing the platform railway from Android to Apple quite yet, this is obviously an app that we're hugely excited by.
Kuvva
Next up, we're dropping narcissism for nepotism, as we profile the work of our friend Nalden, and his team at Present Plus. However, much as we love all that the Dutch web entrepreneur touches – Kuvva would be high on our list whoever was behind it. Because, quite frankly, it's ruddy marvellous. A beautifully curated selection of iPhone wallpapers from top design talent, the premise is simple – as is the interface – but, when it's brimming with content this good; who needs bells and whistles?
Weather Dial
Staying with simplicity, David Elgena's Weather Dial is the epitome of refined design, and wouldn't look out of place coming from Dieter Rams' 1960s design studio. Effortless, functional, elegant and straight to the point – Elgena's app is one that is worthy of gracing the iPhones very own interface.
Figure
Once again, we're singing the praises of sleek creativity and minimalist design – can you see a theme forming here? This time, the good folk at Propellerhead (they of iconic music software such as Reason and ReCycle) treat both the iPhone and iPad to a smattering of no-frills music making. Don't expect to be making your proto-post-dubstep-chillwave opus with Figure, but for quick – and, most importantly, fun – on-the-go music-making; this app is both a visual and functional treat.
Lapka
It's only a couple of months since we wrote about this creative delight, "pretty show-stopping stuff" we said – and we didn't stop there: "Lapka is a set of beautifully designed environment monitors that wouldn't look out of place in a science fiction movie. It's seemingly impressive stuff, with lofty ambitions". The series of personal environment monitors are the first of our creative app picks that incorporate external hardware – a trend that we're increasingly seeing in the world of the app, and something that certainly makes for interesting times in 2013 and beyond. Available soon, head over to our original feature for more details.
Solar
Back to minimalism, and this time in a big way. BIG way. The folk at mobile development house Hollr, Inc. have taken the weather app (which seemed to be the biggest design app trend of 2012) and seriously cut the fat – this is the Victoria Beckham of the app world. Relying on the iPhone's startling retina display, Solar gives you ONLY what you need to know – but backed up by beautifully graded hues, that echo the powerful beauty of nature.
Mailbox
If anything is due a minimal, intuitive refresh; it's email. What started as an observation, by a small team of Californian engineers and designers, that people were using emails as a haphazard means of fashioning to-do lists, became the award-winning app Orchestra To-do – however, with its users still reluctant to give up on the old guard: those engineers and designers decided to turn their attention to reinventing your inbox. Mailbox is the fruits of their labour, and is winging its way to your app store in the new year. Transforming the traditional mail client into a functional, innovative application with tasks and productivity at its heart; Mailbox looks set to be truly revolutionary.
Louis Vuitton Kusama Studio
As Louis Vuitton went Yayoi Kusama dot crazy earlier this year, October saw the release of this curious little toolkit – that transforms your images into digital versions of Kusama's iconic dot paintings. Substance-wise this creative app is pretty thin on the ground, but to hell with that; this is fashion, where form looks down on function like the badly dressed school geek – chuckling at its inferiority. And, of course, it looks really good… sometimes that's all that matters.
Clear
One of a small number of creative apps that are proclaiming the end of the button, Clear is a blissfully simple to-do list that almost does away with an interface entirely. Strangely intuitive, this app uses gestures where buttons would have once thrown their weight around – allowing a pinch here, and a swipe there to transform the user experience. We've heralded and celebrated simplicity and minimalism in this list of apps – but here's one that truly takes the title.
Philips' Hue
Another smartphone app that involves the external world through related equipment, Philips' Hue is a revolutionary LED lightbulb that works via your iPhone or iPad. Available exclusively from Apple stores, the bulbs slot themselves into existing fittings, but offer so much more: adjust your rooms colour to match those of photographs you've taken, control your lighting from the other side of the planet to make it look like someone's at home, programme lighting sequences to wake you up, party or kick back with a Cognac and a Davidoff… this is exactly how we imagined the future would pan out.
P5P, Generative Sketches
If you're old enough to remember trippy trance VHS tapes with painful hippy-dance soundtracks from the likes of Ozric Tentacles and The Orb, and visuals that looked like your telephone doodles on bucket loads of acid; then you'll love P5P – a collection of "interactive visuals, each defined by a flexible set of rules and computed by randomly modified algorithms". If your brain was lost in a field in the mid '90s, you'll relish spending hours contorting some splendidly psychedelic visuals into new iPhone backgrounds… or, if you want to submit your crusty mindwarp on the rest of the world, publish to Twitter – or go retro and email. Problem is, it's unlikely there's a Carphone Warehouse at Stonehenge.
Over
According to Rod, Every Picture Tells a Story – but for those less imaginative, sometimes a picture really is… just a picture. If you're the sloganeering type, and want to make it entirely explicit to your followers on Twitter, Instagram and what-have-you; Over is the design app for you. Take yer pic, choose your type, and punch out your witty catchphrase – it's one of those apps that are explained in seconds, but used for countless hours.