"Art should not be segregated in museums; it needs to live free among us", states Philadelphian mosaic artist Isaiah Zagar, whose murals and inspirational Magic Gardens bring the city alive. It's a statement that I find rings true in Philly, as we hop on and off our tour bus. Sure, this isn't a city brimming with counterculture like Berlin, overflowing with historical monuments like Paris, or bustling with micro-galleries like New York; but this is a city that really knows its art, and you feel that everywhere… not least in the murals that seem to be around every corner.
Beginning in 1984, as a counter-graffiti initiative, The Mural Arts Program now sees over 3,000 pieces of wall art dotted around the city. Whilst I'm not convinced of its officious beginnings (anti-graffiti strategies tend to quash creativity, rather than promote it), I find myself won over by the result – Philadelphia is certainly one of the most attractive cities to walk around.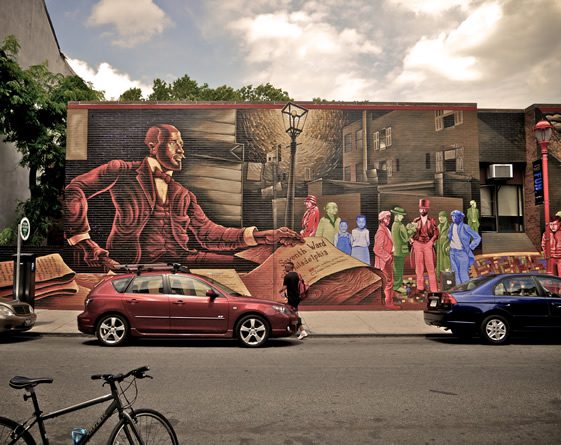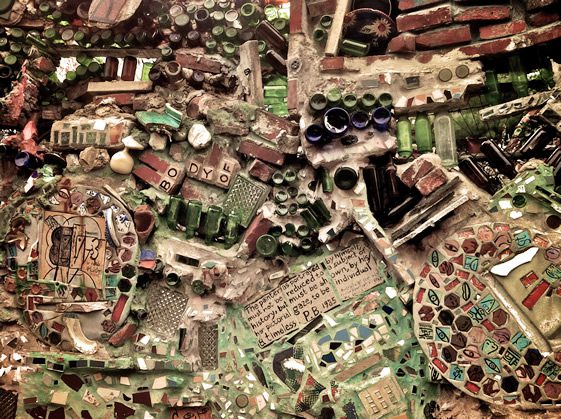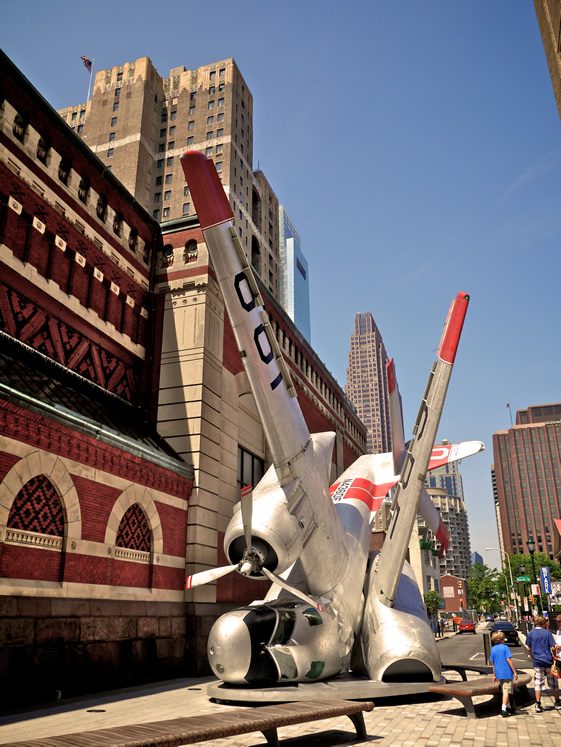 It's not just the murals, Isaiah Zagar's Magic Gardens – a mind-blowing mosaic art wonderland – is a staggering highlight, whilst the public art in the Pennsylvania Academy of the Fine Arts' Lenfest Plaza is impressive to say the least. The newly completed space, that sits between PAFA's two buildings (and at the foot of the city's "Museum Mile") plays host to the 53-foot high Paint Torch, by American artist Claes Oldenburg, and the quite astonishing Grumman Greenhouse; a Cold War-era Naval plane, that recent PAFA graduate Jordan Griska purchased on eBay, before crumpling into the ground and turning sections into working greenhouses. I enjoyed a good 20 minutes here alone, admiring the works, and relishing a little sun. I am British, after all.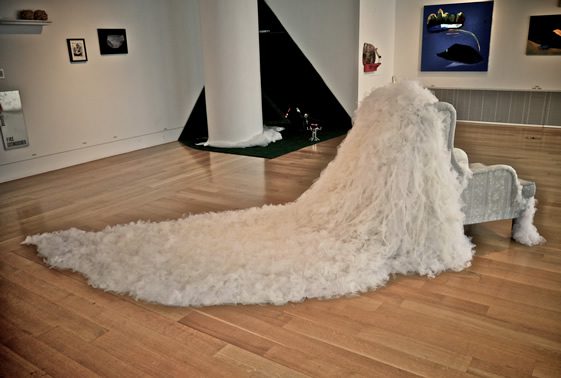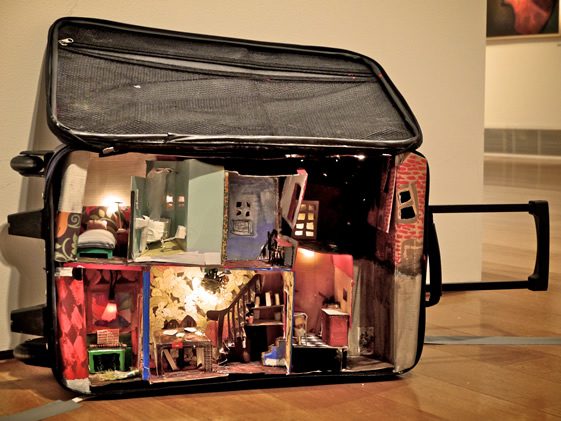 It's just as impressive inside too, America's first school of fine arts was founded in 1805 – and whilst the Historic Landmark Building is packed with the sort of momentous grandeur you'd expect, across the Plaza is the Samuel M. V. Hamilton Building, where the 111th Annual Student Exhibition was brimming with youthful creativity. It's a real juxtaposition to my first visit to the Parkway Museums District a couple of days prior, when we visited the newly relocated Barnes Foundation.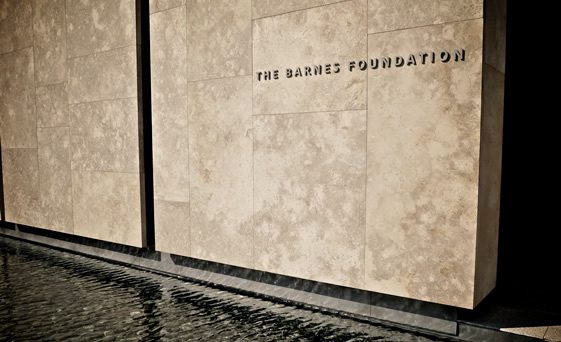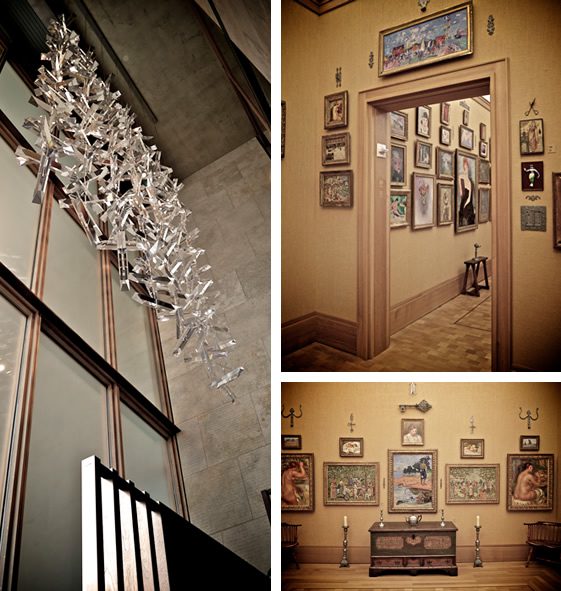 Home to the world's largest collection of works by Renoir, the Barnes' collection of over 3,000 pieces focuses on Impressionism and American and African art and sculpture. It's an overwhelming series of rooms, that recreates the fascinating symmetrical layout of paintings and objects from its former Merion home. Whilst the move may have courted a certain amount of controversy, the new elegant, modernist building that the collection now resides in, is another landmark for the city; and the queues that were forming as we left our early-morning private viewing were testament to that.
Later the same day, we mount the steps made famous by Sly Stallone's mumbling working class hero to indulge in some more familiar works, Warhol, Duchamp, Picasso, Miro… the Philadelphia Museum of Art houses one of the States' best modern art collections, and we visit during the Art After 5 event; the museum's Great Stair Hall being transformed into a cabaret space with cocktails, food and live music each Friday evening.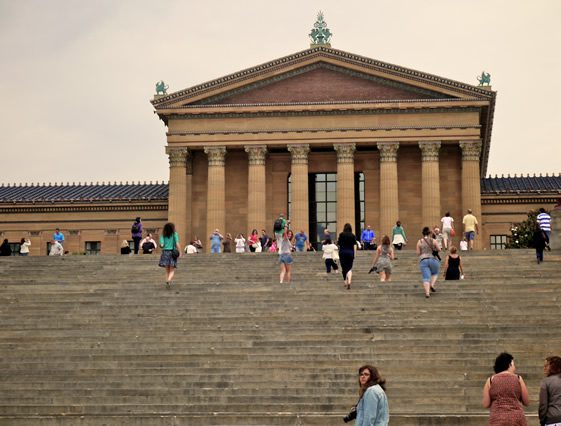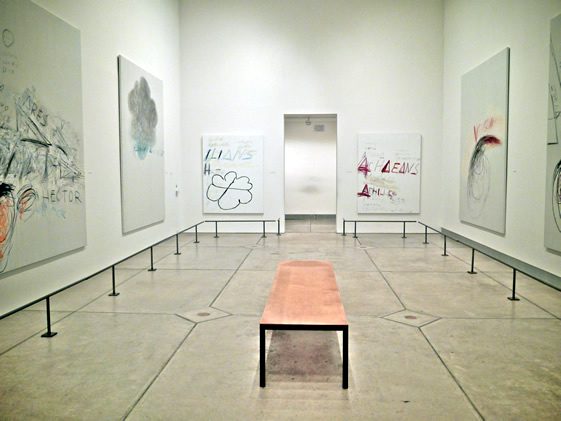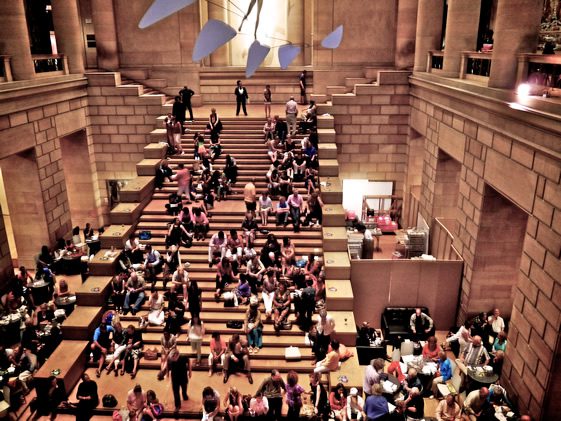 Art After 5 is another example of Philadelphia's commitment to promoting art engagement; earlier on I'd checked in at Van Gogh's Sunflowers, and Georges Seurat's Models (Poseuses) at the Barnes Foundation as part of the city's Check into a Masterpiece Foursquare challenge.
I check in for a third time the day later, tagging myself into the Sphinx of Ramses II at the Penn Museum – where interactive exhibition Maya 2012 was a playful insight into the 2012 Phenomenon – before heading off for a real Philly institution… yep, it was time for the Philly Cheesesteak.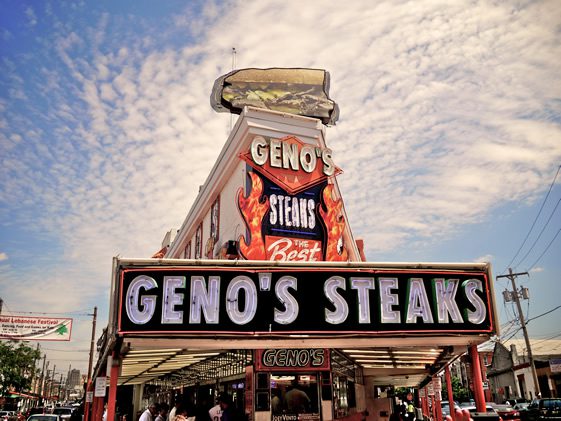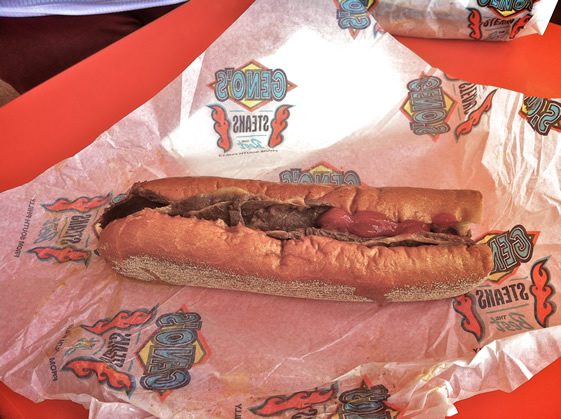 The intersection of 9th Street and Passyunk Avenue in South Philadelphia is where Pat's King of Steaks and Geno's Steaks compete for business – with scores of locals and visitors flocking to sample the city's most famous heart-stopping export. When in Rome, and all that, but truth be told, this is one Philadelphia icon they can keep, I'd much preferred my lunch the day before.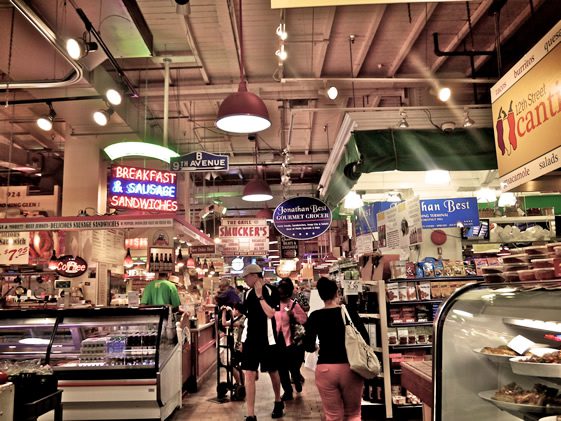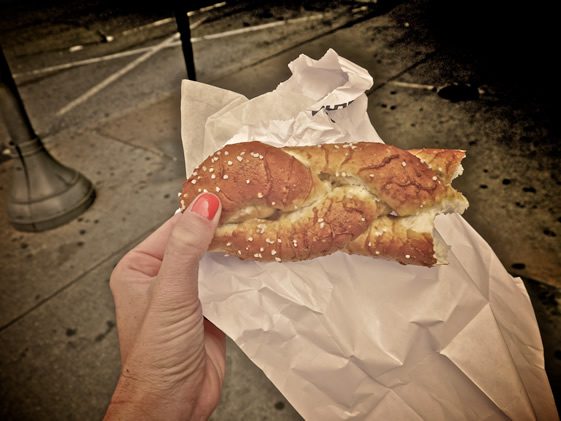 Reading Terminal Market is an exhilarating assemblage of fresh meats, seafood, famous Philly sandwiches – Man Vs. Food's Adam Richman was here for a roast pork Italian at DiNic's, and cheesesteak at Tony Luke's – giros, pizza, sushi… you get the picture; you could spend the day here, and after discovering the cuisine of the Pennsylvania Dutch (Amish), I almost do.
There's Amish stalls selling confectionary, apple pies and pancakes, but I fall head over heels for Miller's Twist's hand-rolled, soft pretzels – freshly baked, all day long; I've had damn fine pretzels before, but these were something else.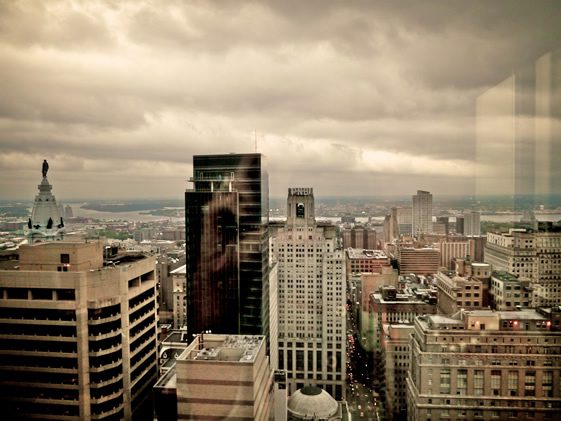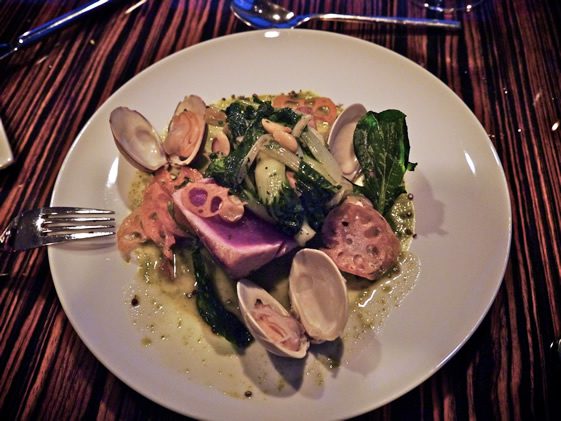 Of course, it wasn't all street food, there was time (and just enough room in my stomach) for fine dining too; we travel 500-feet above the city, to the 37th floor of Two Liberty Place, where Chef Daniel Stern puts his own twist on traditional American flavours. R2L's seared tuna with grains of paradise, lotus, clams and baby bok choy, washed down with a cocktail of Hendrick's gin, St. Germaine, ginger ale, muddled lime and cucumber, was to die for, but not nearly as much as the 40-mile views from our private dining room.
There's art, lots of it. Food, in wild abundance. But Philadelphia is also a great place to enjoy some downtime. It's not as hectic as its famous close neighbour, and it's easy to navigate. There's plenty of parks, squares and public spaces too; my hotel, the Sofitel (formerly the Philadelphia Stock Exchange), was located steps away from Rittenhouse Square, whilst a ten minute walk took me to one of my favourite spots, John F. Kennedy Plaza – aka LOVE Park, nicknamed so after Robert Indiana's iconic LOVE sculpture, that keeps watch over the square.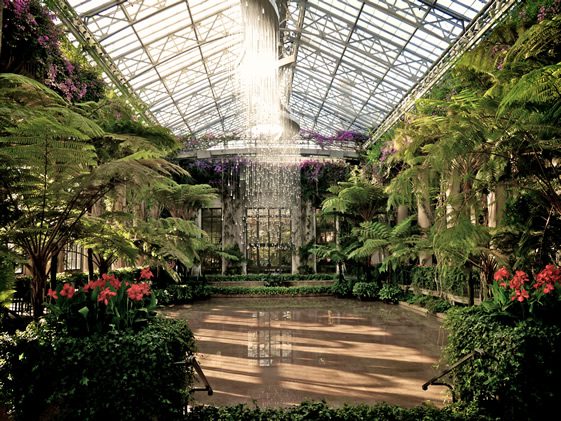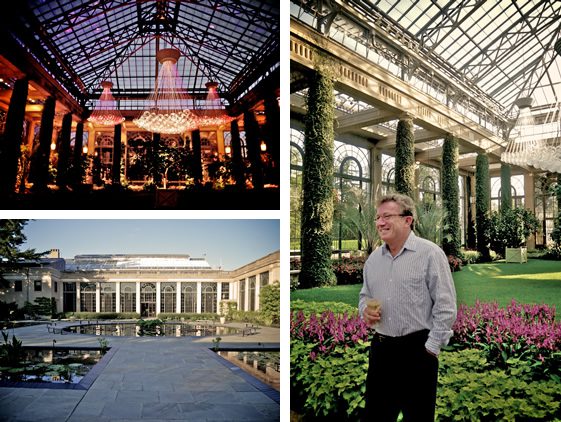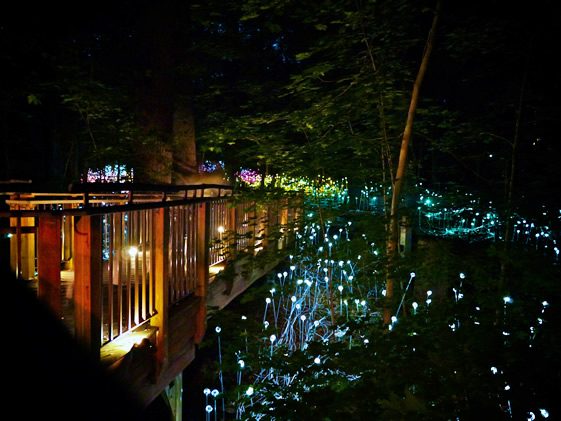 If you need to get out of town, there's surely no better place than our final stop; the 1,050 acres of spectacular, regally maintained grounds that is Longwood Gardens. Of course we're not here for the horticulture, this being Philly – there's more art to be had, in the shape of English lighting artist Bruce Munro's truly spellbinding new installation.
Showing until 29th September, LIGHT features two installations in the spectacular 4-acre conservatory, along with seven large-scale outdoor installations and a series of illuminated sculptures in the historic Music Room. We're treated to a private dinner in the conservatory, and are joined by the delightful artist himself, but it's when the night draws in and we venture outside that the scale of his work hits you.
It's easy to say that art can conjure up emotion, but this is a work of such scale and beauty that it's still with me as I write this piece, yet is hard to convey into words. Enlightening, emotive, charming… it was an experience that perfectly encapsulated the rest of my time in The City of Brotherly Love.