Longwood Gardens, Kennett Square, founded in 1906 by Pierre S. du Pont is a piece of heaven. Sheltering you from the hustle and bustle of the city that is Philadelphia yet only an hours drive, we'd been invited to enjoy a private dinner with the English lighting artist – Bruce Munro – and take a tour of his first US garden installation; LIGHT. Featuring seven large-scale outdoor installations and two within the conservatory, we were promised a night to remember, but first, we had an appetite to work up.
Longwood Gardens is one of the world's greatest horticultural displays. Amongst the 1,077 acres are twenty indoor gardens housed within the rather opulent Conservatory. Built in 1919, it's home to 5,500 types of plants. The twenty outdoor gardens are even more spectacular; amid the vast expanse of flowers, you'll find exhilarating fountains and architecture. You simply could spend the whole day here. Some guests coincide their visits to take in one of the performances or events that are hosted regularly. In fact, I was a little disappointed to discover we'd just missed the Wine and Jazz Festival by an hour or so. Fine wine, local fare and alfresco jazz… sounded like bliss.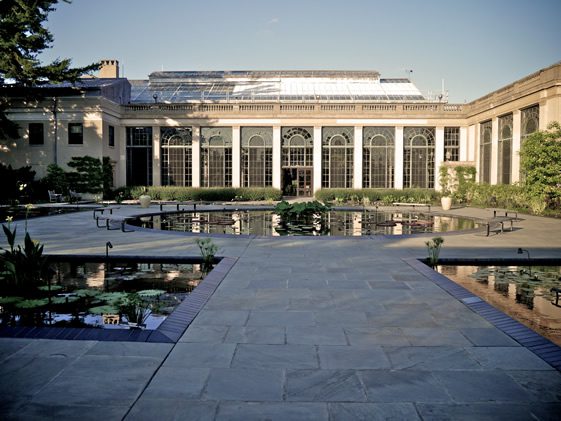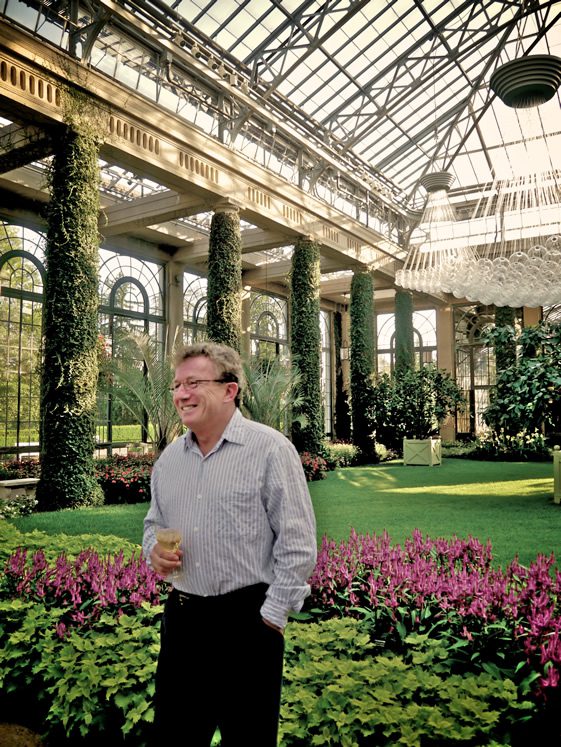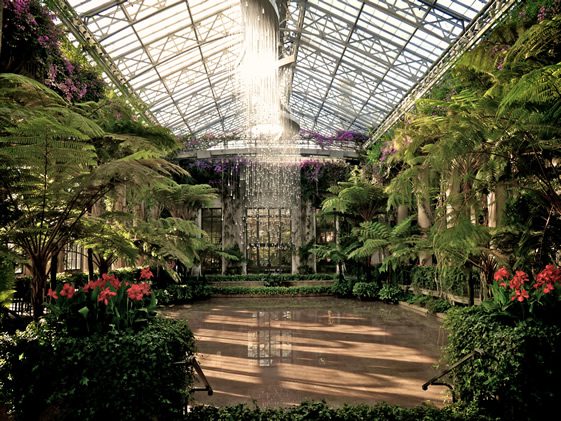 So with the tour of the grand Conservatory over, we sat down for dinner. Taking in the surroundings and trying to digest the sheer variety of stunning plants I had just seen and was still amongst, one thought kept coming into my head… If you worked here, you'd be happy to go to work everyday. Our dinner was divine, the perfectly cooked beef being a highlight – along with singing Happy Birthday and enjoying cake with the birthday boy and host, Bruce Munro. By now, night had set in and the anticipation almost too much to bear, we were off to witness his LIGHT installations, in all their glory.
We'd come across the two Conservatory installations on arrival and they looked good then. In the dark however, they were something else. Snowballs consists of six snowball chandeliers suspended from the imposing ceiling. The 762 hand-blown glass spheres changing colour every 30 seconds or so. Light Shower was even more impressive, as 1,650 twinkling lights looked as though they were raining onto the flooded Fern Floor below. The magical reflection it let off only intensified the luminous shower.
Heading outside, around the gardens, we come across Arrow Spring where 16 stainless steel spheres lit-up the walkway. Across the small lake was Field of Light. We all let out a gasp and, abruptly, our chitter-chatter stopped. Consisting of 7,000 frosted glass balls sat upon 7,000 acrylic rods mounted on stakes, 34.8 miles of bare optic fibre was used. That should give you some idea of the scale of this installation. Although we never got to see Waterlilies on the larger lake, this has some 65,000 recycled CDs scattered over the lake amongst 100 6ft and 100 8ft lilies.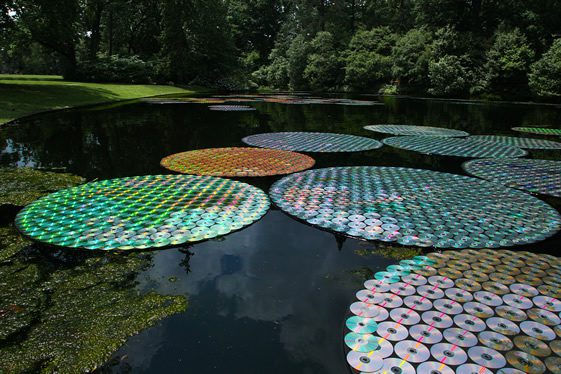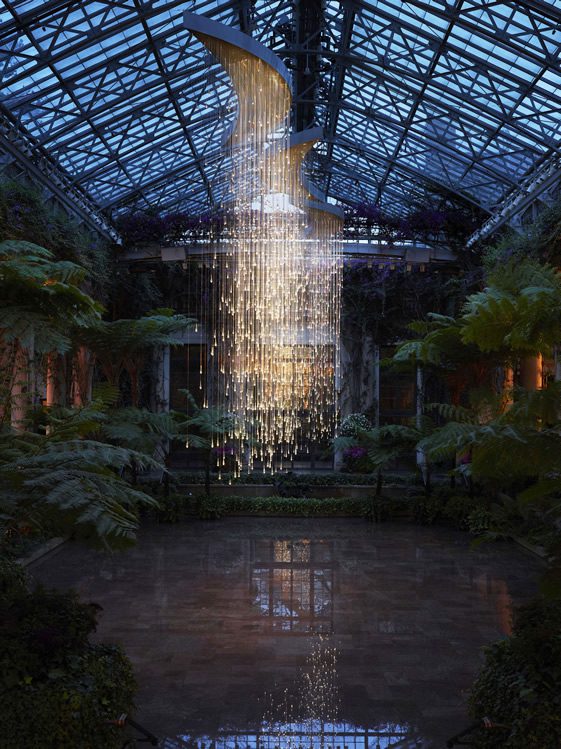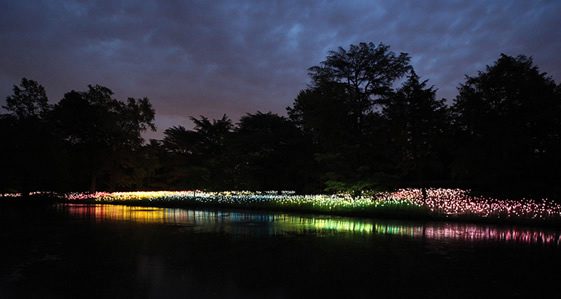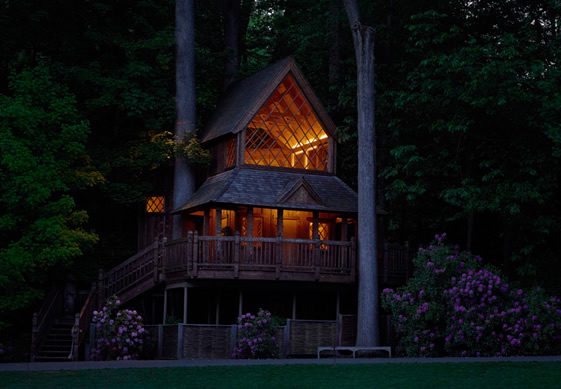 Emotions were rising as we continued on past the lake and into the forest. Forest of Light was simply staggering with 20,000 clear glass spheres – again mounted on stakes – lighting up the forest as far as the eye could see and beyond. It's like the best light graffiti you've ever seen, but there in front of your eyes. The scale of this installation, with its 86.9 miles of bare optic fibre, was quite difficult to comprehend, the feeling it evoked wasn't.
Somewhere within the forest we arrived at probably my favourite place and installation; The Canopy Cathedral Treehouse. Some 177 handmade porcelain candles for the installation Candlelight flickered in the night sky, I opened the wooden gate, clambered into the treehouse and took a moment to myself… This was emotional stuff, and yes, I had a tear or two in my eyes. The 6 back-lit mirrors complete with antiqued glass only served to make the installation look grander and more spectacular.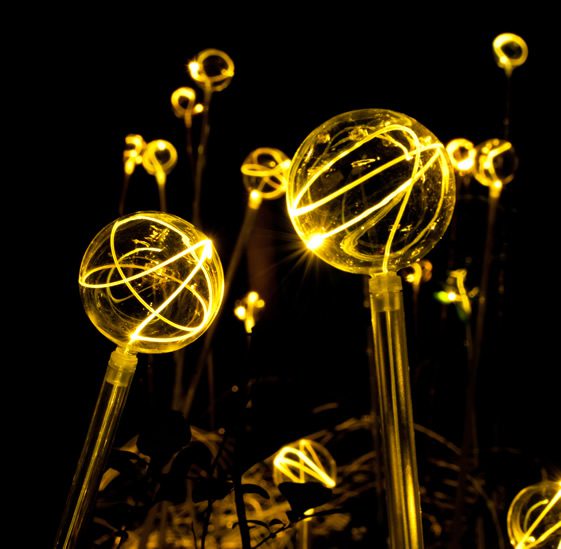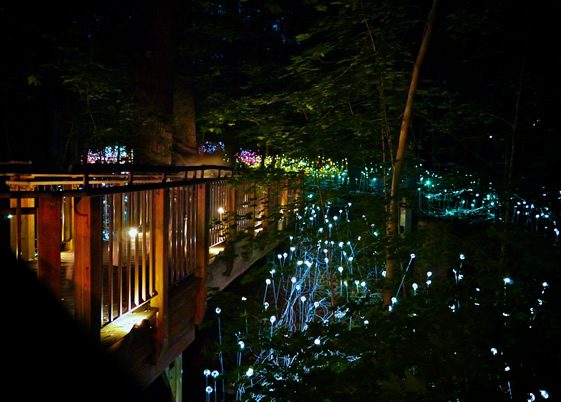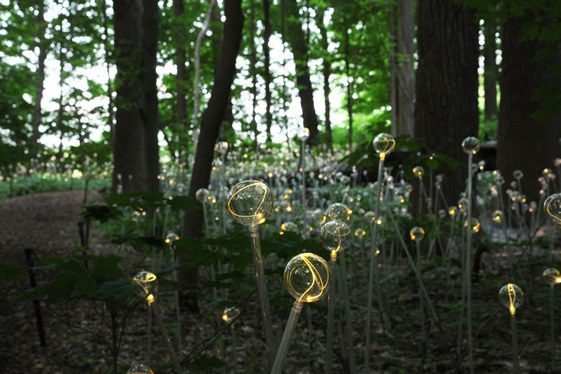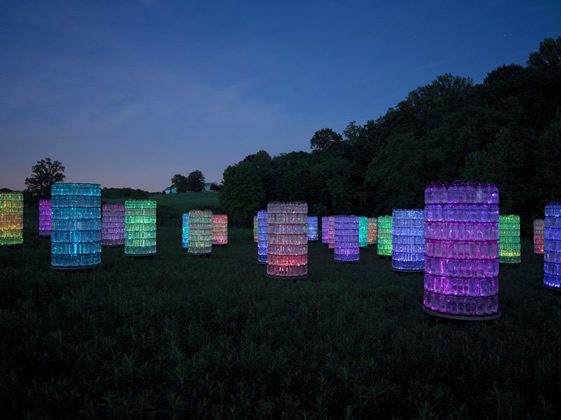 By now, we'd unanimously agreed that this evening had been the making of our Philadelphia trip. We'd seen art and lots of it, but this – maybe helped along by the generous flow of wine throughout dinner – this, was in a league of its own.
Continuing on to Meadows at Hourglass Lake, we came to our final installation and I felt a little like I'd entered one of Glastonbury's sacred spaces. Water Towers creates a maze of light which changes to music; yes, music. The 23 speakers ensure wherever you are in the huge field, it will serve to compliment the breathtaking 17,388 1-litre recyclable bottles that make up this installation; a collection of 69 symmetric towers.
We were promised a night to remember, but got much more than that… this will be a night I'll never, ever forget. You can see LIGHT by Bruce Munro, at Longwood Gardens until 29th September. All materials will be recycled or reused in his future installations – such as his ambitious Field of Light project.