With 28 guestrooms in Bangkok's Sukhumvit Thonglor neighbourhood, Volve Hotel is accommodation for those travellers who want to immerse themselves in local culture; food; art; and authentic lifestyle.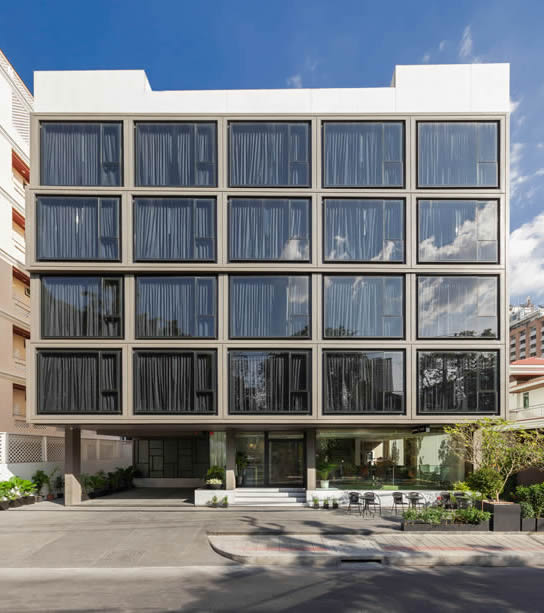 Standing proud amid the some of the city's most esteemed houses, the hotel is surrounded by authentic street food stalls, coffee houses and Thai eateries. Understanding that travellers are moving away from the 'cookie- cutter, hotel chain stay', and opting for experience over guidebook box-ticking, Volve (named with that evolution of modern day travellers in mind) is a hotel rebuttal to the wave of Airbnb. Taking its quintessence from the heritage homes of the surrrounding area — which was once home to Bangkok's aristocratic families — the hotel is a gathering place for like-minded explorers, its lobby doubling up as a café; a hip spot for guests and locals alike to come together.
Private Scale designed the interiors, lead designer Pitiphat Chongsomchit introducing details that pay homage to classic fifties retro and contemporary fashion. Each room boasts crisp, white linen; Malin+Goetz amenities; local Thai craft beers; and ample space. Individually designed, each of the 28 rooms are different to the next — curiosities and unique design quirks, and works from up-and-coming local artists alongside digital collages, expressing a sense of humour and playfulness that embodies the Volve mindset.