Since being appointed Ford of Europe's Exterior Design Director at the beginning of 2005 the former chief designer at Opel/GM, Cologne-based Stefan Lamm, has been responsible for the design of innovative concept cars like the iosis, iosis X and the Verve Concept, and also for the new Ford Fiesta, Ka and the pleasingly chunky Kuga that we experienced first hand during our recent Ford press trip. Having just presented the intriguing B-MAX concept, with its unique pillar-less design, at this year's Geneva motor show, we caught up for a quick chat with Stefan about his cars and his inspirations…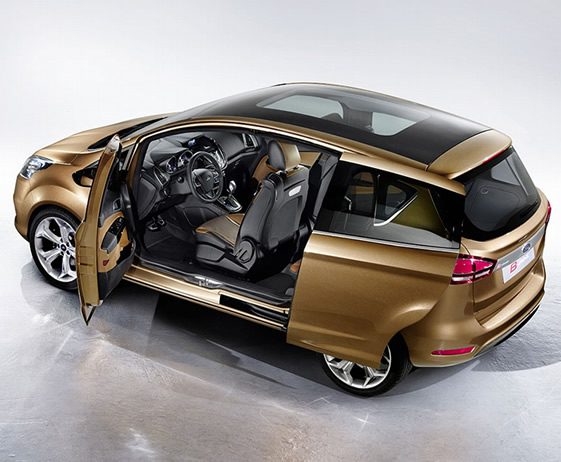 So how did you get into this line of work, was it the passion for cars, design, both?
Of course, as a small boy I always loved cars but I also had a passion for drawing. I was always drawing and sketching cars and somehow the dream came alive to be working as a car designer, so you know? Both work together quite well…

Which cars inspired you growing up?
At that age when you are 15, 16, you always think about the dream cars, a Ferrari or a Lamborghini Countach, you know? Expensive products you are always dreaming of, and every time I saw a Ferrari on the street or at a motor show I was always amazed at how fantastic it was. In today's world it's nice to see them, to look at them, but you know it is much more complex to work on a really high production car like a Focus or C-MAX and a much bigger challenge than doing a sports car.
So you prefer designing for high production?
It's nice to do something like a sports car because there is always a lot of credit and coverage from the media but on the other side with something like a C-MAX or Focus, this car is built a million times – the challenge for a designer and the team is much greater. I feel most proud about this challenge. As a team we are creating a product that sells a lot of numbers but also you have a certain responsibility for the company because the cars need to keep being produced, you need to keep people busy, and if you have a flop, you have a problem.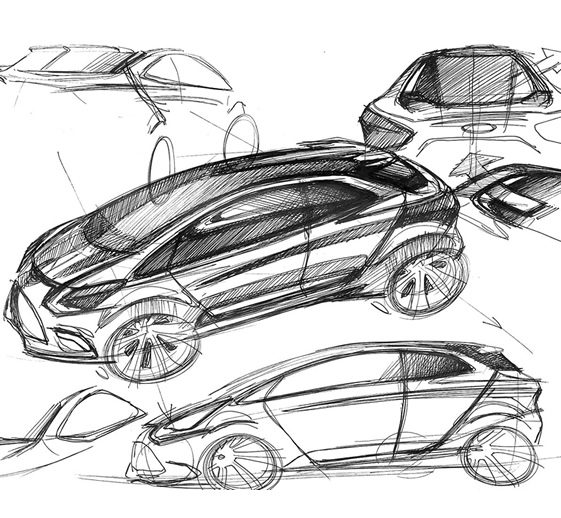 Where do your everyday influences come from?
When we create a car we work together with market research who determine our target customers. If it's a new colour, or if it's a successor of a certain product, then we need to look at how our customer has changed over the years… their lifetime, that's then influencing your design brief. I take inspiration from everything that surrounds us, perhaps it's from the car business – when I got to shows I get a lot of inspiration on trends – but also what is happening in social life, architecture, when you go into town shopping, or when you go on vacation. As a designer you are always thinking…
Also in yourself, sometimes you have good days but others where you are really stressed out and need to execute things, at these times you have to take a look deep in your brain, at your art, and take inspiration from that. It's a very emotional business. To sum it up in one sentence you could say I am inspired by life.
Do you have any design idols?
If I am honest, I don't have them really. It changes all the time but I don't have any favourite designers. Boring answer huh?
Where do you feel the design of cars is going, the recent B-MAX concept sports an intriguing pillar-less design?
You need to differentiate. One thing is about innovation, and I think B-MAX shows that quite well. There is a demand in the market to show you are different and unique. The B-MAX shows we are really innovative but not just for the sake of it, there are a lot of advantages for the customer. In terms of styling we need to perform functions as the highest priority, but also we need to inspire the customers to buy the product, and that's about emotion, about designs.
We will be more challenged in the future when working with engineering because of the environment, aerodynamics etc. In terms of the whole thing, I believe we will be getting a much more simpler body language than in the past, I think the last 5 years we have had a lot of energy in terms of expressive forms and we will keep on going there. I'm not talking about Ford but I think in the car business there are a lot of overloaded designs and I think this will be changing to more simpler forms. We at Ford will continue with our very expressive forms, evoking a lot of emotion.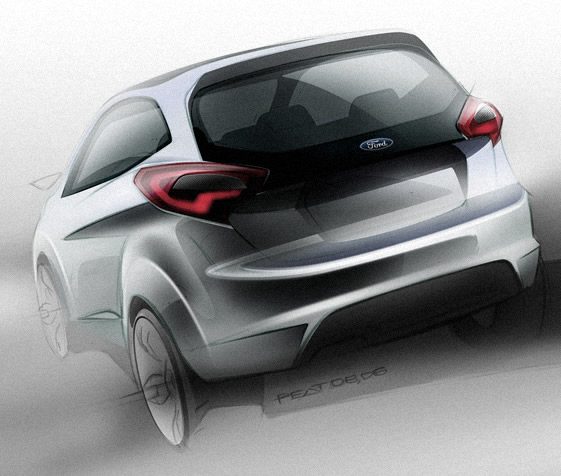 Do you feel we are still making iconic cars, lots of people look back fondly at the cars of the 50s and 60s… are external influences effecting the design of cars today?
The most important thing here is to sell cars, and the whole process is to make cars for the customers. I think the current success of Ford in Europe is telling us that we are doing the right thing, especially with the Fiesta, and to be quite honest, I think that the Fiesta is an iconic car. Because of the style, the looks and… I know the competition are looking very closely at what we have done with the Fiesta. This tells me that, when getting compliments from the media, from the customers, from others, that we've done a great job here and that the Fiesta is an iconic car, even though it is a high production car.
How do you keep up with modern trends in all fields of design, do you visit websites like ours?
Yeah, the internet, I'm also a fanatic reader of all kinds of magazines, whether it's fashion or cars I try to read all the most important magazines, British and German. There are a number of blogs I regularly read and also the feedback from comments is valuable. We also have customer feedback from market research.
Finally, are there any other contemporary cars that inspire you?
Yeah, there are definitely cars there, the emotional products, Aston Martin DB9 for example, because of its timeless design. The 911 Porsche is also something I still admire. I believe that in the compact car class – it sounds a little arrogant – but I believe we are the leaders in that segment so I guess I am inspired by some of the stuff I cannot really tell you about, stuff that we're working on for the next 3 to 4 years…