A Montreal institution, Clarke Café has moved to a larger location, the Italian sandwich shop now occupying a 1,400 square foot space on Rue Shearer in the city's historic Pointe-Saint-Charles neighbourhood.
Architecture office IVY studio, designed the interiors, ensuring the café — known as an unpretentious eatery serving mostly locals in the area — had all the feels of an establishment that had always been there rather than the new kid on the block. The overall aesthetic was heavily influenced by a nostalgic image of traditional Italian cafés, and features multiple layers of family photos, local art and crafts to give an extra familiar feel.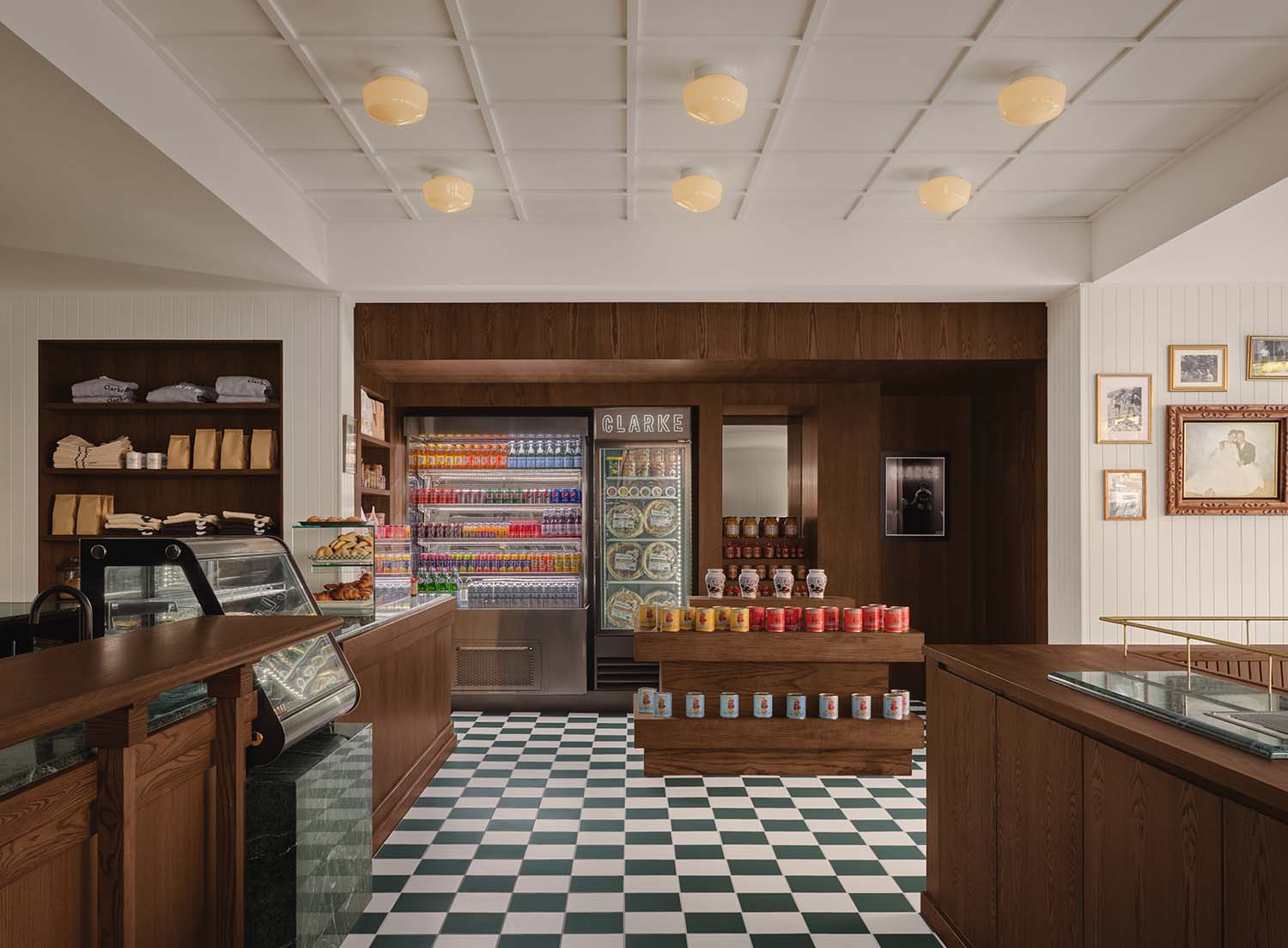 A generally open space, the dining area is subdivided into three distinct functions: the service counter, the seating area, and the grocery shop. A popular haunt for the Montreal lunch crowd, the space for pickups during lunch time had to be optimised for a quick and efficient service. For this reason the seating area is placed by the large glazed façade and is separated from the service counter by the central banquette used both for both seating and as a service station. Likewise, the grocery section is placed off the central path, near the counter, so clients can scour the locally made products and imported goods without blocking circulation.
Harking to the cafés of Italy and with a sense of New York's Little Italy about it, peripheral walls are covered in a classic light cream painted v-board cladding, the floor brings out the brand's signature green in its checkered six by six inch matte ceramic, and mimics the signature wax paper used to wrap the sandwiches. Banquettes, counters, presentation displays and chairs are made of a dark caramel stained oak, while classic details like the banquette backrests, wall shelving and standing counter structure help create the desired nostalgic atmosphere; as does the dark green marble found on the service counter and dining room tables.
For good sandwiches at good prices in an Italian-inspired setting with a heavy helping of nostalgia, Clarke Café is set to continue its dominance of Montreal's lunch time scene.