French illustrator-turned-artist, Jean Jullien, is a familiar name to these pages; his humorous work having crossed from internet famous to working for clients including New York Times, Hermès and Vogue. From there, the Nantes-born London-based creative has upped the ante and been working on installations and exhibitions that have seen his work shown in galleries from Brussels to Seoul. His brother, however, has until now escaped our attentions.
Nicolas Jullien, just two years younger than Jean, has been involved in the worlds of animation and electronic music, creating albums, films, artist videos and soundtracks for installations among other endeavours. Recently, though, the brothers — very close since childhood — have been working closer than ever, Nicolas turning his focus toward exhibition work, in particular through wooden sculptures. In a new exhibition, showing now at Tokyo's Nanzuka Underground, the pair have come together to create a whimsical world of storytelling and imagination.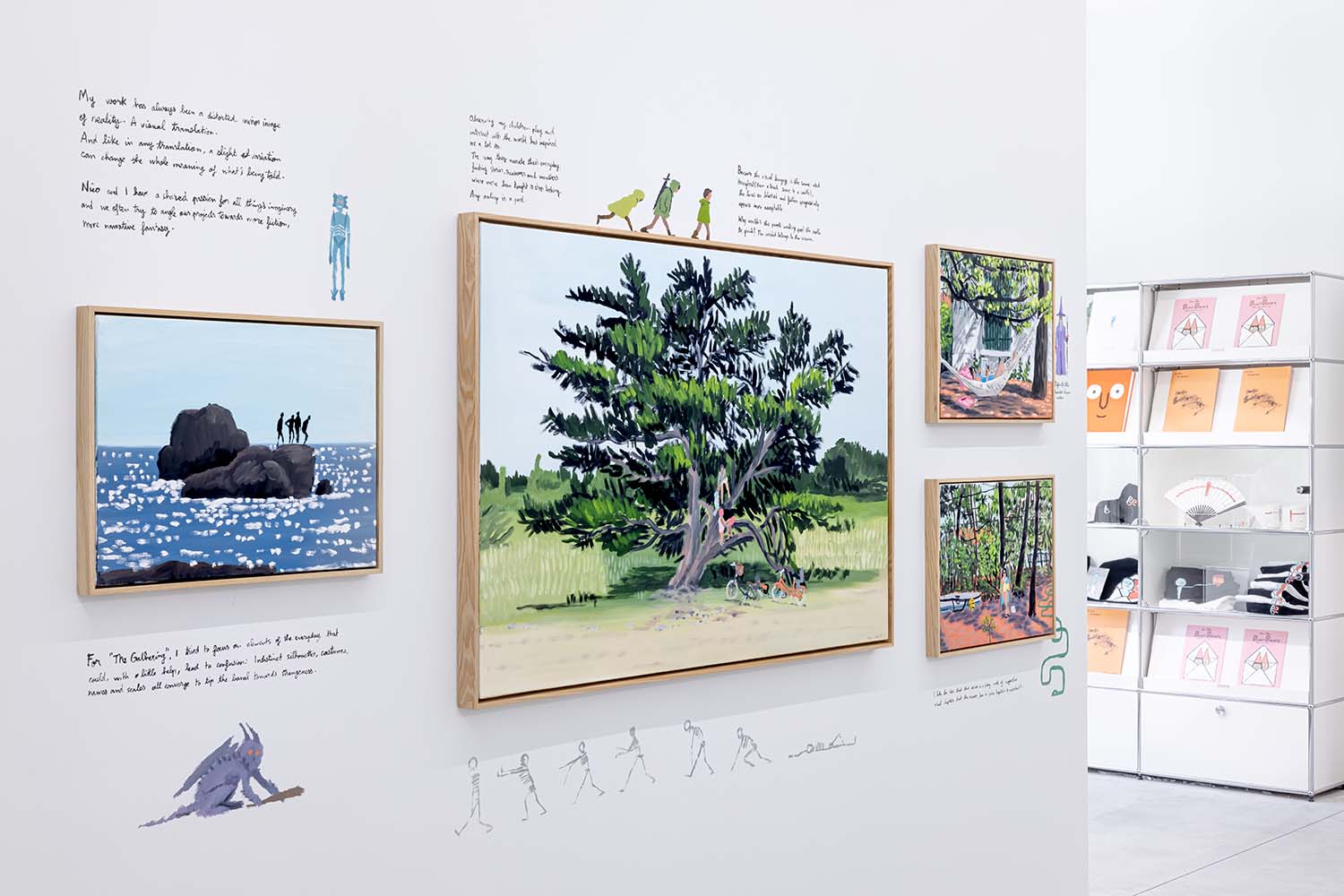 The Gathering — a title derived from a fantasy card game that Jean and Nicolas play daily — sees Jean Jullien's evocative summer-soaked canvas paintings offer narratives that we can all tune in to paired with Nicolas's more abstract notions via his anthropomorphic creatures. Jean's stories told, and his brother's untold, come together to let viewers sink into their own fantasy worlds and explore their own imaginations through mystery and playfulness.
In addition to the main exhibition, a solo show of Jean's work at 3110NZ by LDH kitchen and a solo show of Nicholas' work at Nanzuka 2G will be presented concurrently.
Jean Jullien and Nicolas Jullien's The Gathering will remain on show at Nanzuka Underground, Tokyo, until 12 November.
@nanzukaunderground
@jean_jullien
@nico_jullien