A taste of the Mediterranean awaits diners at much-acclaimed Michelin-starred chef Claude Bosi's new Mayfair restaurant, Socca. Its name paying homage to chickpea flour and the elegant pea flower, Socca Mayfair is a collaboration between Bosi and restaurateur Samyukta Nair, of LSL Capital. Situated in a Grade II-listed building on a corner of South Audley Street, and tucked behind sun-kissed blue awnings, its an elegant find.
Designed by London-based Fabled Studio, the whimsical interiors nod to French institutions such as La Columbe d'Or and the stylings of Villa Santo Sospir; diners entering into a elegant Grand Salon via a sculpted rattan greeter desk.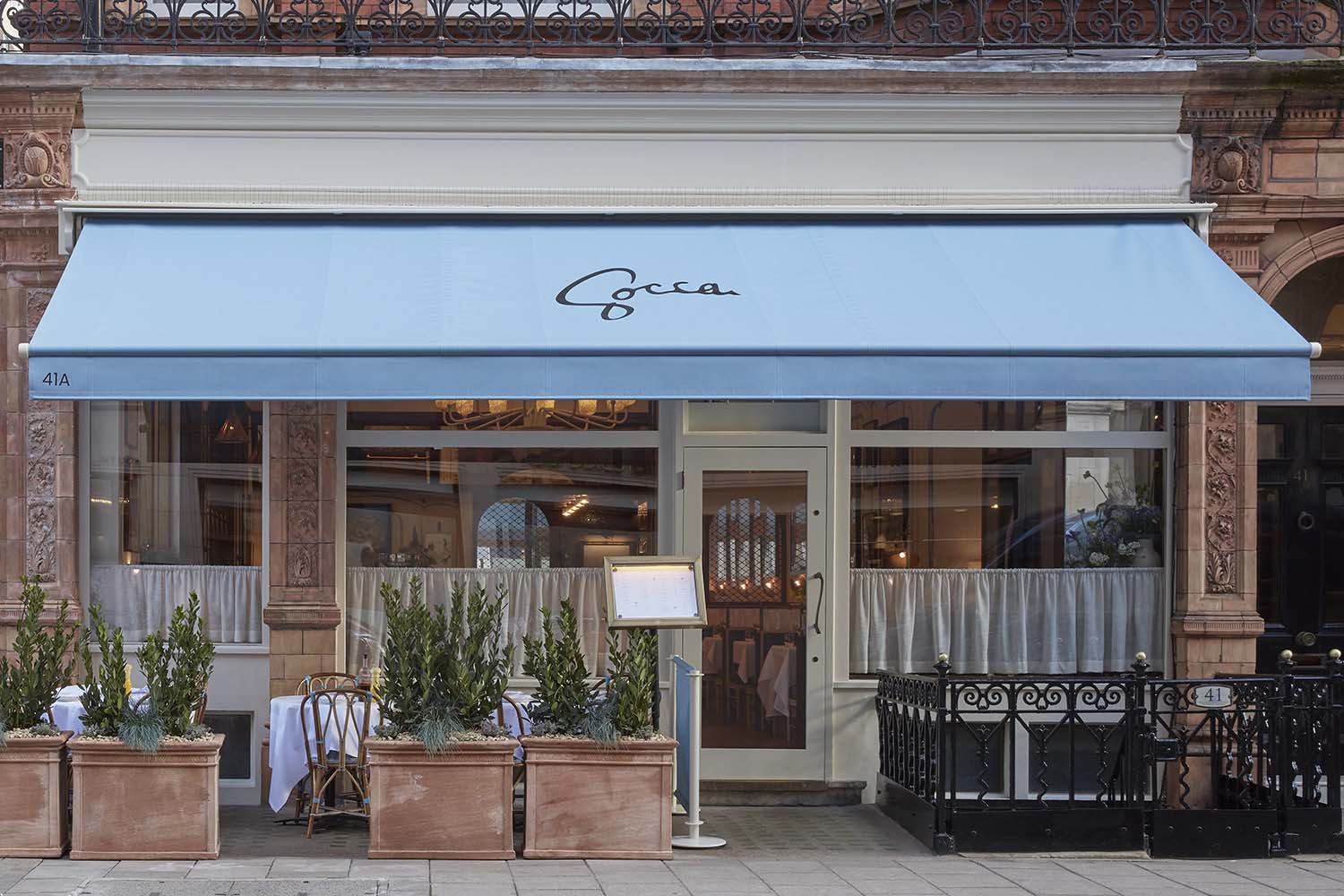 Timber panelling lines the walls, complemented with deep navy leather and patterned fabric banquettes and booths that are set off by fresh white linen clothed tables. A Breccia Violetta marble raw bar is the star of the show, poised beneath two grand pendant lights and embossed with leather and bronze metalwork and table lamps.
Le Bar, found towards the rear of the Grand Salon, is a spot for diners to sip on pre- and post-dinner drinks perched atop oxblood leather bar stools with views of the Salon and white jacketed bartenders mixing craft cocktails for thirsty guests.
The Petit Salon, meanwhile, is a playful, residential-style dining room hidden at the back of the restaurant, with walls adorned with a layered mural wrapping around the room amongst olive green, leather banquettes and delicately pleated; silk wall lights emanate a seductive warm glow to the room.
The sixth restaurant project created by Fabled Studio in partnership with Samyukta Nair and LSL Capital, Socca sees chef Claude Bosi having designed a menu of delicate simplicity, seasonal to its core. Starters include globe artichokes and Ortiz anchovy dip or Mediterranean octopus, harissa, preserved lemon and parsley. Pasta dishes include blue lobster orecchiette and shellfish rice, whilst fish and meat dishes are headlined by the likes of tronçon of turbot, sauce Romesco, and beef cheeks Provençal. To finish, guests can enjoy classics such as crème brûlée and Menton iced lemon sorbet.
For a convivial dining experience in a famed cornerstone of a Mayfair institute, Bosi's latest opening is a restaurant every bit as elegant as his famed culinary offerings.