Barcelona-based design studio El Equipo Creativo, bring the essence of the beautiful Mediterranean town of Cadaqués to the Catalan capital with Compartir Barcelona, the latest gastronomic concept from the ex-El Bulli trio behind Compartir Cadaqués and two Michelin-starred restaurant, Disfrutar; currently ranked the third best restaurant in the world.
Located in a classic venue in the Eixample district, El Equipo Creativo retained an impressive steel structure that dates back to the beginning of the last century and stripped back the space, revealing its original walls and ceiling. To tone down the rawness and create a contemporary urban venue, colour and curves were used alongside softer natural materials and lots of texture.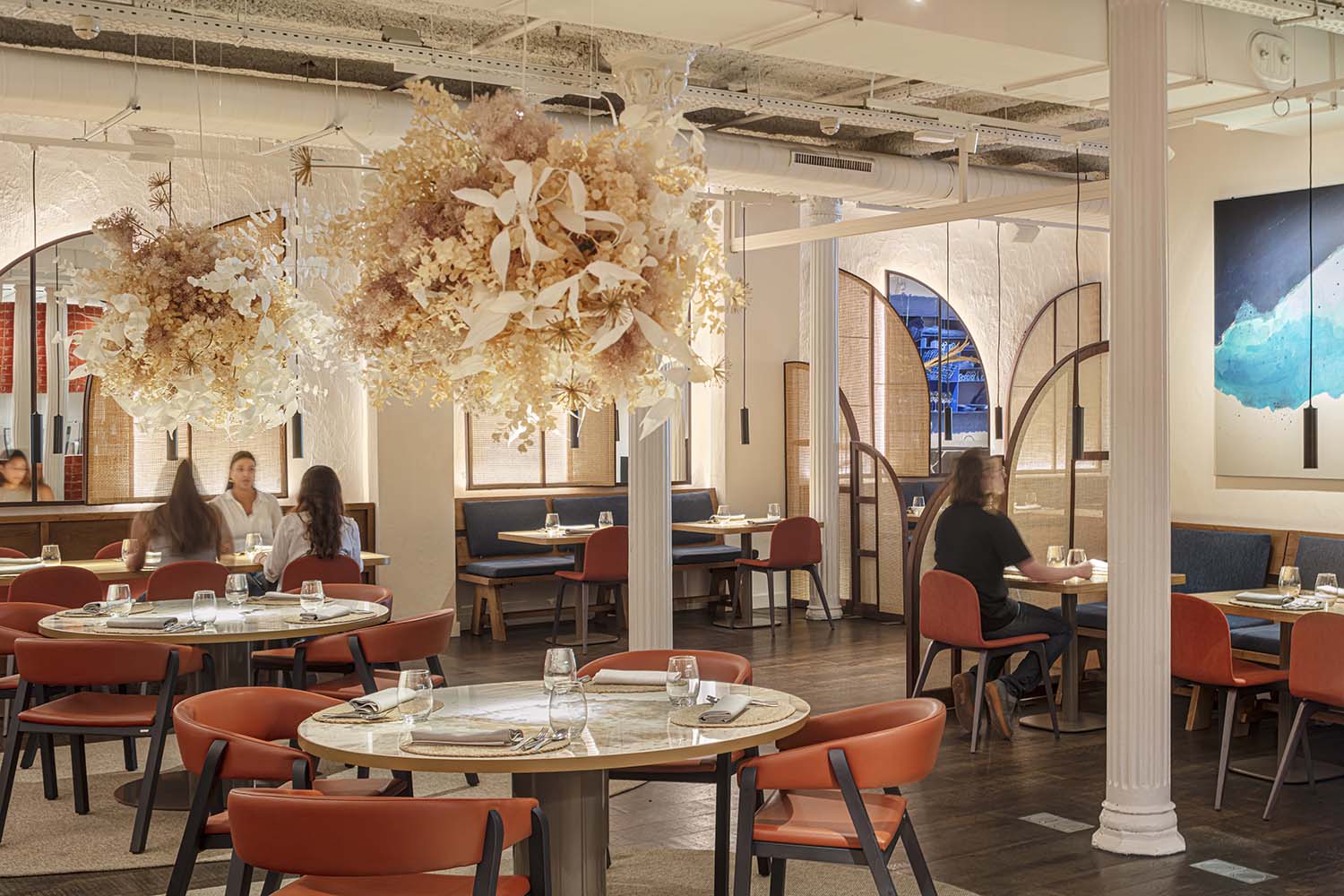 Local artists worked their magic on three abstract 'windows'; one sculptural, the second pictorial, and the third textile, all nodding to Mediterranean Sea in a bid to evoke the spirit of the cuisine in diners. The curved shapes of mirrors and wicker dividers add dimension and privacy, and are designed to recreate the abstract landscape of sails and vessels, referencing the unforgettable natural bay of Cadaqués.
Bars and kitchens have simple and bold shapes, and act as sources of energy that activate the different areas of the restaurant, as well as 'linking up' the entire space where slate stone, light materiality and terracotta tiles give a distinctly Mediterranean touch with particular reference to the Costa Brava.
With high-end traditional cuisine, the thrilling dining experience of Disfrutar may have been left behind, but the quality is not compromised. An exquisite restaurant with emotive design, it's no surprise that locals and visitors are already sharing enthusiasm for Compartir Barcelona.
@compartirbcn
@elequipocreativo