Celebrating the enigmatic streets of New York, as captured by five masters, an exhibition of the same name is currently showing at London's David Hill Gallery; featuring works from the late 1940s through to the early '70s from some of street photography's greats.
In alphabetical order, the five photographers featured are Werner Bischof, Mario Carnicelli, Harold Feinstein, Larry Fink and Marc Riboud; each having snapped every day life in the Big Apple during a period generally considered as the golden age of street photography. The exhibition, curated by David Hill and Carrie Scott, brings together the works of these five icons, providing an insight into their discipline, the era, and how the genre influenced the New York of today.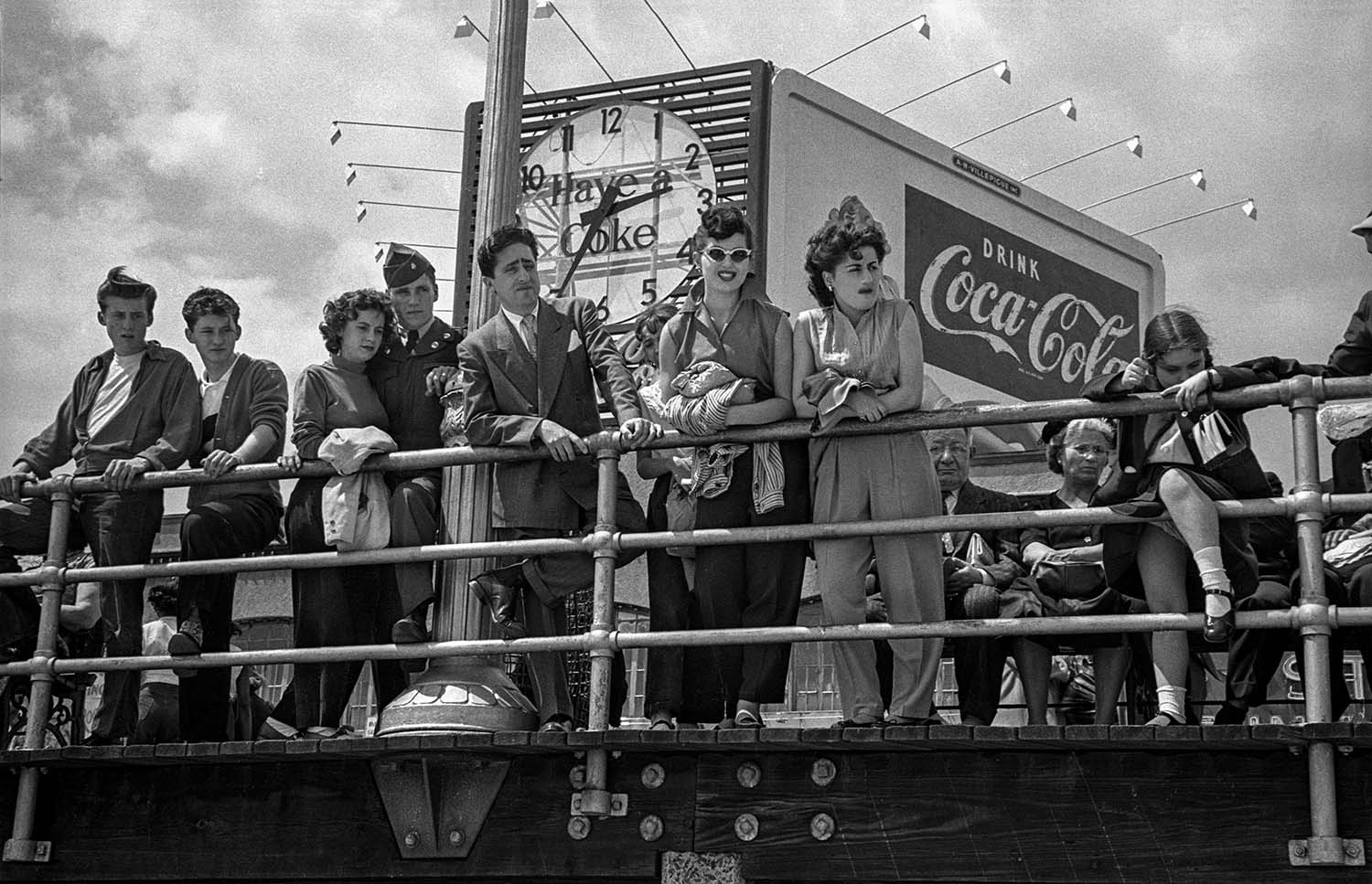 Recognised as one of history's most influential photographers, Swiss born Bischof (1916-1954) received international recognition for his outstanding and innovative photography during his short life. His featured work in the exhibition includes both colour photography such as Cop Tossing Night Stick, alongside emphatically austere black and white imagery.
At the junction of street photography, Carnicelli became fascinated by the freedom offered by America and shoots with an eye informed by New Wave cinema. Awarded a lifetime achievement award at the inaugural Prix Viviane Esders in 2022, the photographer is currently working on a new monograph that will cover his 1964 series documenting the funeral of Togliatti, the three 1960s trips to the United States, and his South East Asian street photography.
Feinstein began his career in 1946 at the age of 15, and by the mid 1950s was renowned for his celebrated portraits of Coney Island, later becoming one of the most prominent figures in the vanguard of the New York City street photography scene.
Fink's images, meanwhile, are taken from the hip, his snapshot-like photographs breaking through surface appearances, capturing tender, awkward moments that reveal the fragility of human beings; whilst Marc Riboud (1923-2016) was one of the generation of French photojournalists who formed the core of Magnum Photos in the immediate postwar years. His own longevity was matched by that of his output, which ran from his first snapshots of the 1937 Paris Exhibition to international coverage of people's lives across Asia and Africa, Japan and the US, and into the new millennium.
The ultimate metropolis caught by some of the finest eyes in photographic history, Streets of New York is a fascinating insight into another time, and remains on show at David Hill Gallery, London, until 3 March 2023.