By no means a new project (Lofos bar actually completed by Ark4Lab of Architecture back in 2018), it is nonetheless a damn fine design project, "a masterclass of contemporary hospitality interior design, based on the purity of the materials and shapes used," and one that we felt obliged to add to our archives.
A coffee shop cum art bistro bar, the 200 square metre outpost can be found on the outskirts of the suburban area of Kilkis, which is just under one hours drive from the Greek port city of Thessaloniki, and is a place rich in natural beauty with a long history, good food and affable citizens. Lofos bar is a place where beautiful aesthetics meet tasty fare and wonderful cocktails; all from a two-level, unified high ceiling space with large distinctive openings.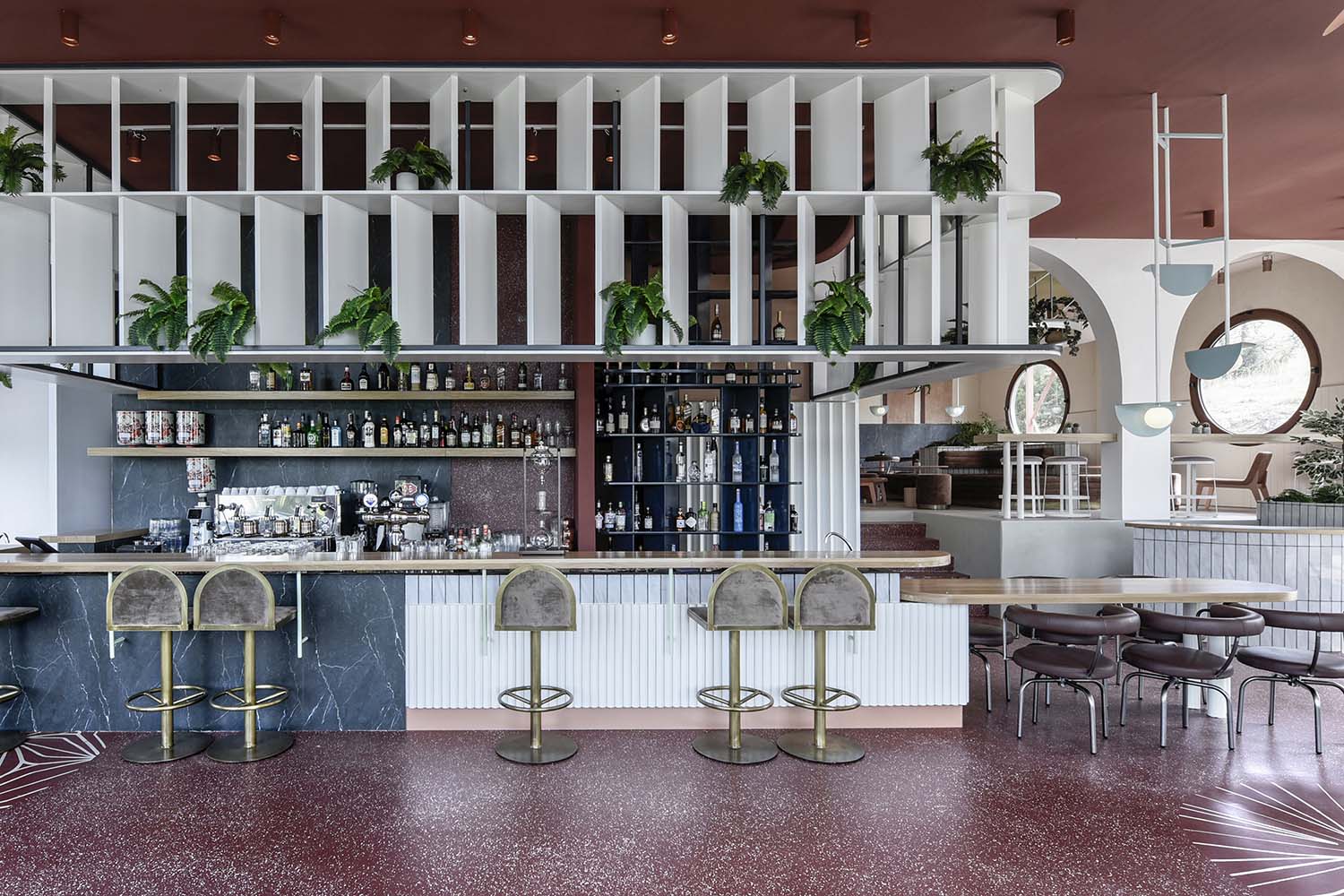 Each area is defined by a single colour choice, the colour palette vibrant yet harmonious and complemented by materials such as marble strip coverings, velvet, terracotta mosaic, wooden surfaces, greenery in handmade clay pots, and black marble coverings with golden details.
Speaking of those shapes that makes this design so splendid, Ark4Lab of Architecture consistently applied successive regular geometries on different scales, from the lighting fixtures to the furniture design and the overall structure of the space; all creating a postmodernist-inspired venue that borrows elements and forms from past decades and that provokes emotions in its guests whilst also serving as a fun and social meeting spot.
From shades of terracotta and salmon, to blue hues on the lamp shades and lashings of green from plants, Lofos bar's unpretentious yet Instagram-ready aesthetics deliver a convivial spot that is heavy on good times alongside good vibes. Inspired and inspiring, it's surely worth the trip when visiting the charming city of Thessaloniki.