Designers X+Living (who we last saw toying with reality in Guangxi, China) have created an "offline social entertainment metaverse," for Fundolandπ, a major amusement brand under LEDI Culture. Located in Changsha's vast BBG Star World, the project is situated in the Red Star Business District, one of the city's wealthiest, surrounded by fashion, lifestyle and entertainment venues.
Set over 4,500 square meters and led by X+Living's chief designer, Li Xiang, the design of Changsha Fundolandπ floats between reality and illusion, submerging its visitors in a dream-like dimension that often defies logic. Integrating more than ten diverse entertainment areas and functional zones to present a series of complete immersive experiences, the space features a fantastical and flamboyant animation art style used to create a magical and futuristic atmosphere and narrative.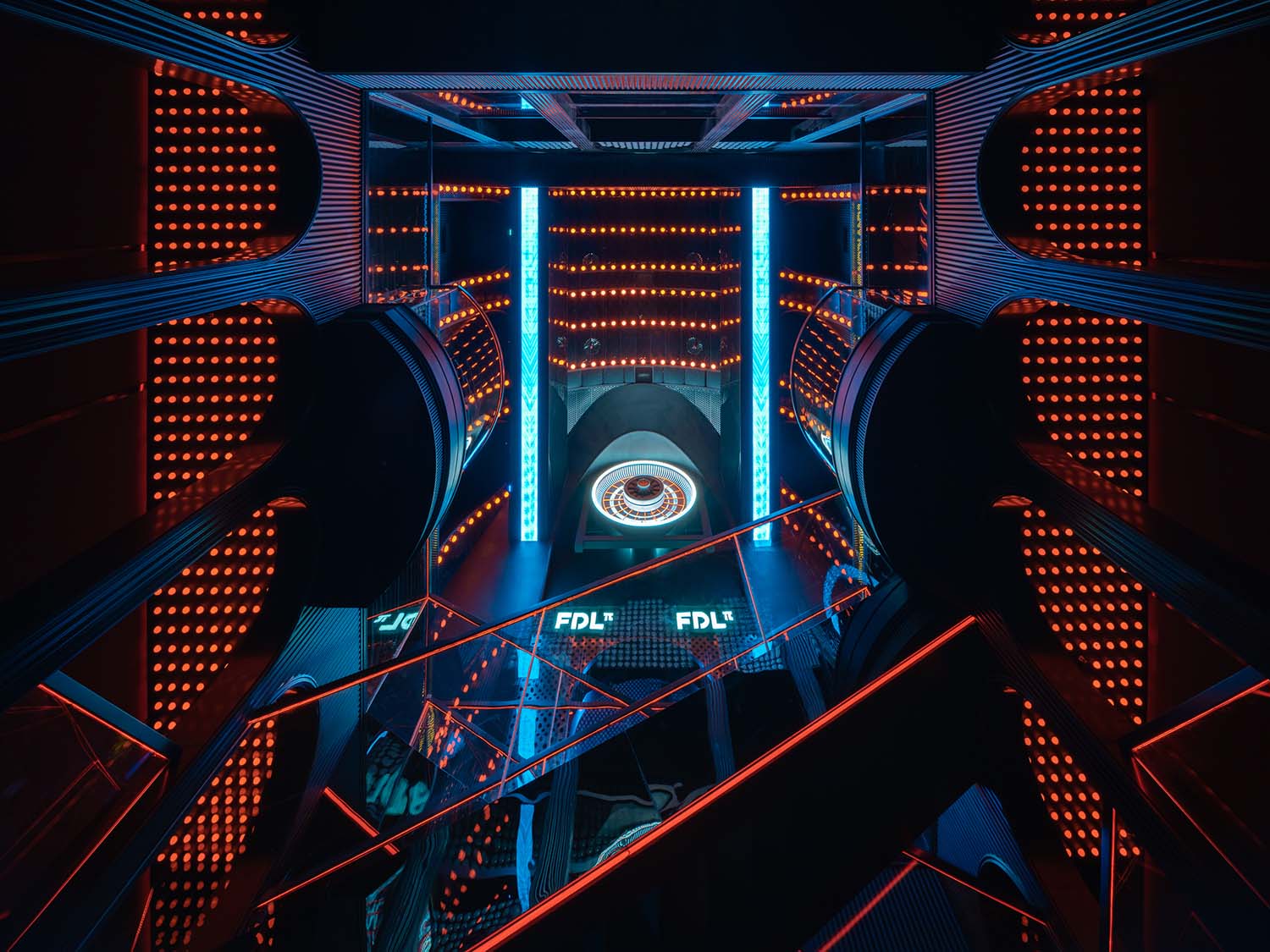 An escape from the monotony of everyday design, Xiang packs a visual punch with layers of depth, theatrical exploration and visual spectacles; the dreamlike journey providing escapism and surreality around every corner. A black mirrored wall at the entrance reveals a fantasy world inside an arched doorway, with oncoming 'dream trains' creating a strong sense of surreal dislocation. From here, visitors will find a gift area and retail shop before heading deeper inside, onto more elaborate zones.
Arcade city, inspired by the 'retro neon subway', is an arcade game station featuring a retro-punk colour scheme thanks in part to the light emitted from the video game equipment. There's a bowling alley; Live House, a space to sit on dark red sofas and take some time out; and karaoke bar KTV, which is located at the end of the tunnel dining pub and boasts a psychedelic future aesthetic.
Presenting a sensory consumption experience through the masterful weaving of storytelling narrative by way of bold and brilliant architecture and design, in Fundolandπ, X+Living have created a monster of a recreational space in Changsha, the capital of China's Hunan Province. Prepare to exit this world, and lose yourself in an alternative reality.