Shanghai-based designers X+LIVING have collaborated with FAB Cinema and Zhongshuge Bookstore on a cross-brand project, the resulting Taiyuan FAB Cinema combining the cultural aspects and individual social features of both brands to create a concept that's ideal for an (almost) post-pandemic era.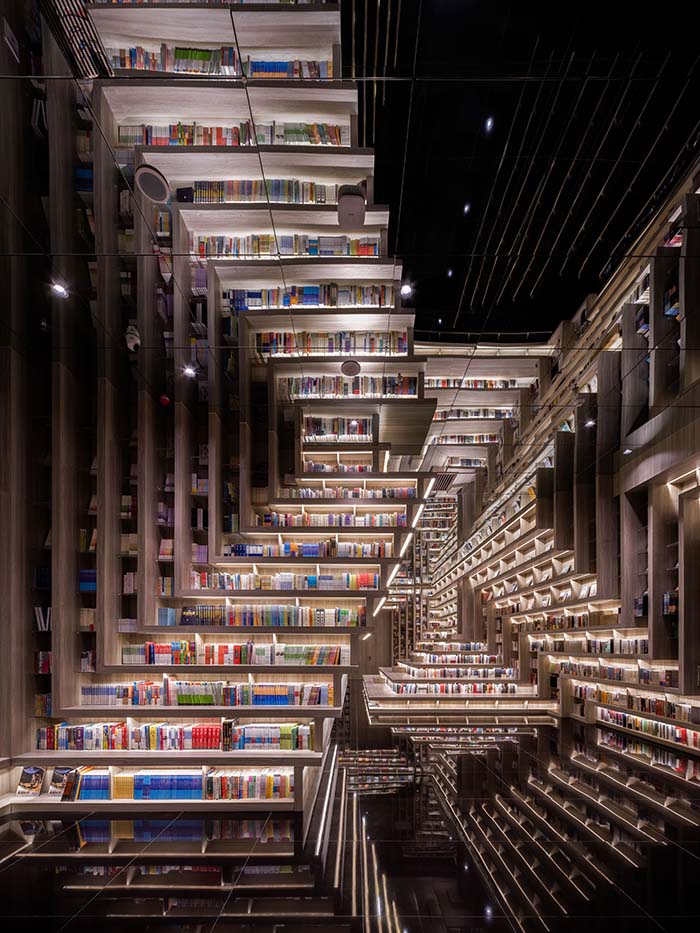 Located in Taiyuan, China, the innovational cinema experience is set over 4,600 square metres and starts on the fifth floor, whilst the breathtaking reading hall of Zhongshuge——now also home to FAB's ticket office and featuring a bookshelf wall——is a truly ethereal otherworld for guests to pass time before the movie. In the lecture hall, bookshelves adopt a step-down design creating an abstract mountain shape allowing them to now feature as seats and stairs; the acid-induced venue now used to host book-related events as well as activities in the realm of film culture.
The children's area has been turned into a fun little world with projectors, video recorders and films used to playfully highlight the theme of the venue. The corridor that leads to the cinema from the bookstore boasts a strong visual impact, X+LIVING having rearranged arches that adorn the 10-metre-high space; creating an up and down traffic flow to separate the movie viewers from the book readers, preventing them from disrupting one another in their periods of concentration.
Using a mixture of wood materials (all of which are Level A fireproof) the place not only look aesthetically audacious, it guarantees cinema and bookstore-goers safety, the cultural and inviting space set to activate a new business model for cinemas whilst providing an upgrade of the retail and entertainment model for the renaissance of physical bookstores; helping business owners to adapt to our ever changing society.