Keeping the fast, but adding pure and fair, Howie Roll is on a mission to make plant-based cuisine accessible to everybody, everywhere; their sushi rolls as good for the planet as they are their customers. Believing food can be a force of optimism, the health food outlet offer super green, affordable, everyday eats, bringing a new mindset to the fast-food scene from their stylish outpost in Utrecht.
With interiors by Amsterdam-based designer studio, ninetynine, and branding from brand architects, Circus, the concept reimagines the classic fast-food layout, using colours, lighting and materials to create clear typologies, whilst maintaining a balance between speed and efficiency, and friendliness and warmth.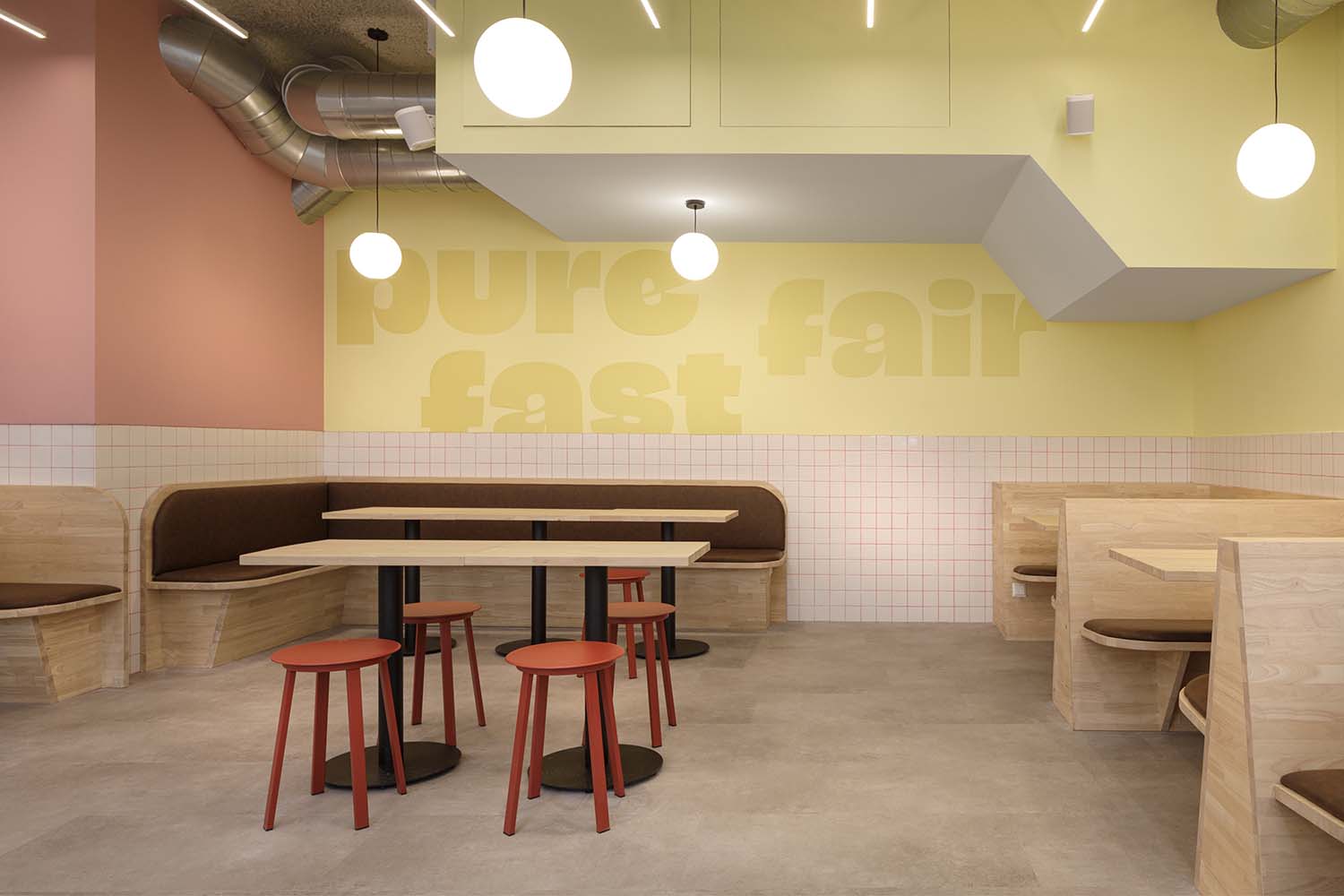 There's no 'in-person' ordering here, something ninetynine had to clearly communicate to the customers. In order to do so, upon entering the 170 square metre space there's a subtle transition zone between the front door, prep kitchen, and waiting area, with the terminals (upon which to order) confronting the clientele as soon as they step foot inside. A custom planter wraps around the kitchen and incorporates the terminals, creating a visual barrier as well as serving as a visual reference to the plant-based food and, more importantly, emphasising that this is a transitional zone connected to the outside, and that as you have yet, you've still not entered the actual restaurant.
Whilst the ground floor waiting area is based around speed and efficiency, nodding to the fast food scene, the mezzanine area is a more relaxed affair with booths and benches, warm pendant lights and playful graphic statements. A place for customers to linger and enjoy a more traditional restaurant experience, it's a great spot to stop and try the menu in earnest.
Passionate champions of plant-based cuisine, the brilliantly named Howie Roll are the voice of a new generation, with ninetynine and Circus's playful aesthetics serving to consolidate that fresh approach.
@howierolls
@ninetynine_amsterdam
@welcometocircus