L.A.-based Bunnie Reiss is an artist, muralist, and sculptor. Influenced by folk art, mysticism, and nature, Bunnie's often large-scale works can be found on walls all over the world. Sometimes delicate, and always impactful, the artist's narrative-laden frescoes are entwined with geometry and nods to cosmology.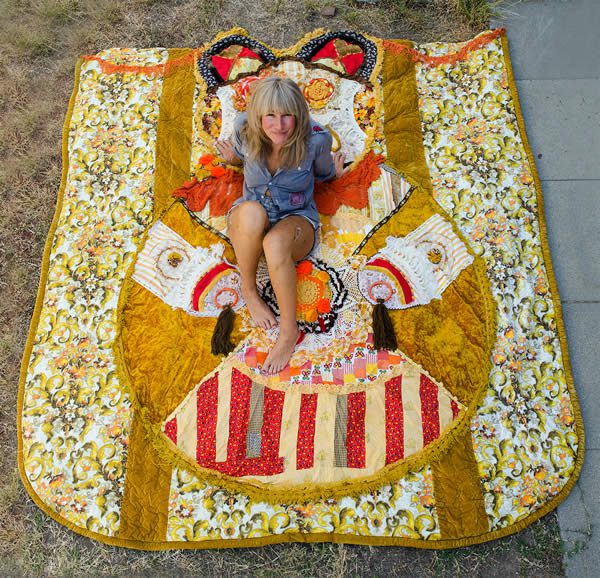 Reiss's imaginative influences come from her childhood in Colorado, her studies in literature and her Eastern European heritage. She uses a wide colour spectrum that is contemporary and cheerful, applying a hybrid of black detail on larger tonal blocks of vibrant pastels. It appears that Bunnie Reiss's preferred backdrop is anything large-scale—from buildings to walls, and even vehicles; a recent installation at Superchief Gallery L.A. even putting a boat into the equation.
As part of a series of features exclusively publishing content from the printed pages of Create Zine, the independent creative promotion publication caught up with the Los Angeles creative to discuss the natural world, folk art roots, and the significance of that boat.
Nature and the 'wide-blue skies of Colorado' inspire your work, can you tell us a bit more?
The natural world has always been part of a large dialogue in my work. Growing up in Colorado we had the unique experience of having nature on our doorstep, but also a bustling city. I was always camping, hiking, swimming, and skiing. Anything that was outside or in nature I seemed to be a part of.
Do your Eastern European roots also come into play?
There is Russian and Polish ancestry throughout my lineage and a very strong tradition of detailed folk art. The symbols, magic, and colours absolutely influenced me. However, it took me a while to put together the pieces of my heritage. I was exposed to a huge sense of community and gathering growing up in a conservative Jewish family.
Since we are first generation, there was a lot that I didn't understand about what life had been like, why most of my family had escaped from their homelands, and why it seemed so important for us to eat, play, and be together as often as possible. It is of the utmost importance that we are kind, compassionate, and caring.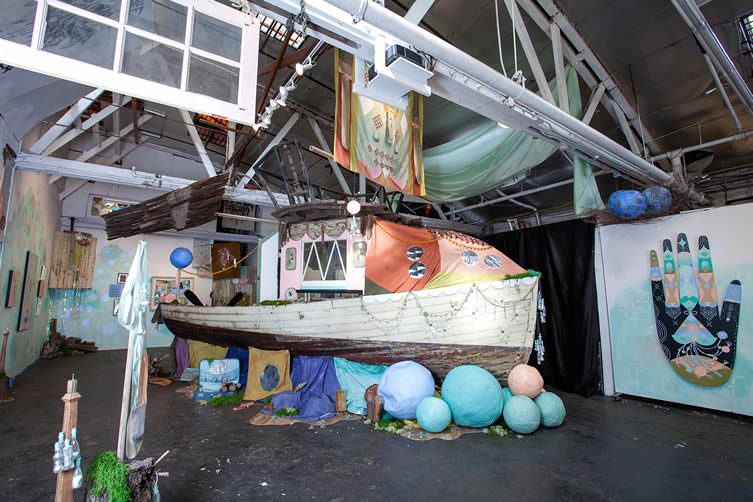 How do you visualise your work?
I am an avid sketchbook user and always have one with me. I also read a lot, consume tons of media—podcasts, audiobooks, movies—they all influence my ideas. I also love the stars and studying the different patterns of the planets, black holes, and new universes.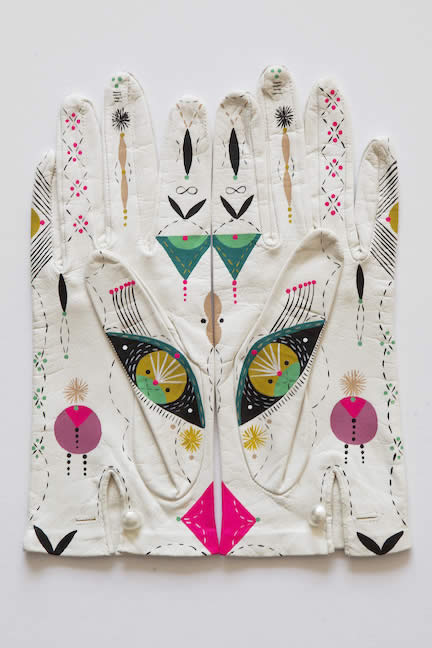 You paint on canvas, brick walls, on physical objects, and on textiles; do you have a favourite backdrop?
I love painting on large smooth walls. There is something very physical and exciting about making something so big. It also allows for my art to be viewed by so many people. I really love painting cars too. Although enamel paint is a little challenging, the smooth and shiny finish is really fun to work with.
Tell us about your Cosmic Animal Gloves. Are they connected to the hands you often depict?
That project is my longest running body of work. I love taking objects that function in only one way and turning them into something precious. Vintage leather gloves hardly fit anyone because of the evolution of our bodies. The world is full of these beautifully crafted objects and I love finding them and giving them a new life.
You recently exhibited at the Super Chief Gallery in L.A.; can you tell us about your multi-dimensional Space Angels exhibition?
I wanted to do more public art and focus on my murals, that in turn took me out of showing at galleries. I knew I wanted to create an installation that included a big sculpture. I used to live on a boat so it was natural for me to work with the shape, but to also make it into something so fantastical that it could only live in outer space. After the grief of the fire in Oakland and the election of the president, I turned to my imagination to help me deal with the trauma and collective sadness. The show was a world I created full of soft colours and shapes, warmth, hope, and a huge Space Boat that could fly us anywhere.
@bunnieluvrocks
@createthezine