A laid back affair, Sullivan's Fish Camp oozes nostalgia, the old-school fish camp serving fresh fish, cold beer and frozen cocktails out of its Sullivan's Island seaside restaurant.
Lovingly restored by Charleston hospitality team, Basic Projects, the restaurant formerly known as the iconic Sullivan's Seafood Restaurant is a family-run institution known for its shrimp and grits and homemade Key Lime pie. Almost destroyed by Hurricane Hugo, the new look presents a bright, contemporary take on the traditional Southern fish camp, Basic Projects looking to bring this local institution forward into the next 30 years, preserving elements that endeared it to the community while introducing a fresh take on this neighbourhood landmark.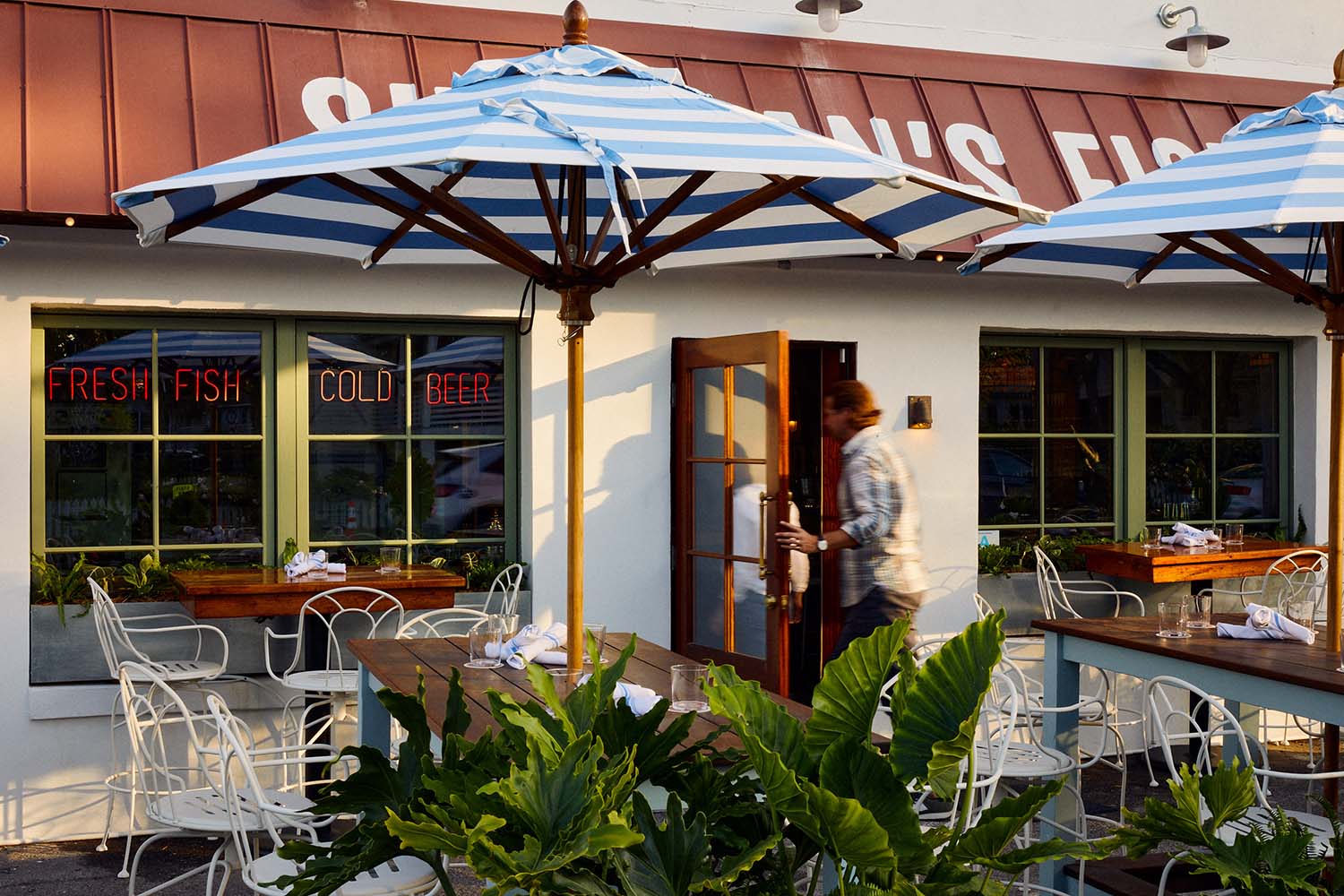 From oysters and shrimps to whet the appetite to salads, clam frites and tempura nori tuna to share before attacking the large plates that include Sullivan's Island gumbo, Maine lobster, fish sandwich and catch of the day, the food at Sullivan's Fish Camp is playful, perfect for the beach and inspired by Southern ingredients; Chef Hood focussing on local fisherman and farmers to create a menu brimming with Fish Camp classics.
Kate Towill, founder and creative director of Basic Projects, worked with local artists and tradesmen when designing the restaurant, creating a space rooted in Sullivan's Island and South Carolina. With an old English pub sign for the restaurant exterior created by local artist Mickey Williams, and Duane Raver illustrations on the placemats, this is a place that nods to tradition whilst respectfully moving forward.
The dining room is akin to the cabin of a '70s sailboat, the floors are a checkered bright yellow and cream linoleum tile and the dining room is furnished with lacquered wood of sea-faring sensibility. A wonderful spot to eat fresh, honest grub washed down with craft cocktails and ice-cold beers, Sullivan's Fish Camp remains soaked in wistful nostalgia, whilst being very much prepared for a long and successful future.
@sullivansfishcamp
@stitchdesignco
@basic_projects